When it comes to running a site in the web, security is of paramount importance. Customers who use your website need to be sure that their data is safe and secure. It is the prime way to earn customer's trust and for that, it is essential to have a verified SSL security certificate for your site.
What is an SSL certificate?
SSL is a global security standard that safeguards the privacy and integrity of data that is being transmitted across the internet in a particular session.
An SSL certificate proves your company's identity and protects private data send over the internet so nobody can access or hack it. SSL works by creating a private key to encode the data transferred between the browser and the servers.
URLs that have SSL certificate begins with https: instead of http where S stands for the additional security offered by the website. Users can check for the presence of SSL security by looking for a padlock in the address bar before the URL.
Website security certificate is complex but the complexities remain invisible to your costumers. Only when they click on the key indicators in the green bar on the border, they can view the details about the certificates. Higher trust in your business website means more confidence in the security of your services and high confidence often means more conversion to sales.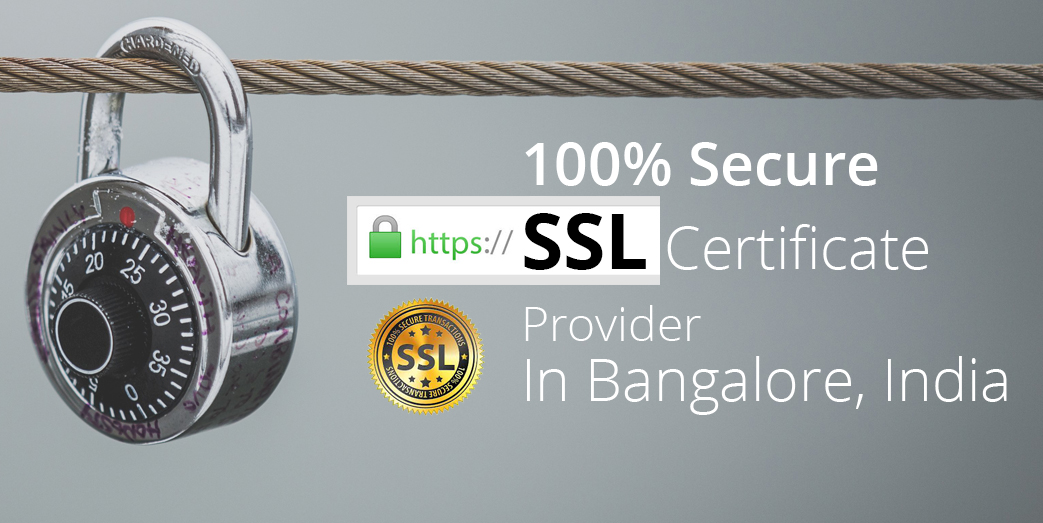 Obtaining SSL certificates
To obtain the SSL certificate, businesses need to apply for it from Trusted SSL Certificate Service Providers in Bangalore. The SSL certification is a digital file that links some encrypted information such as the domain name, server name, legal owner of the certificate, owners physical locations, server's public keys, certificate validity dates etc.
The application company would only be authorized to receive the certificate only after clearing several inspection levels that depend upon the business and the type of certification you have applied for. Once the company obtains the certificate, it must deploy the certification on its server to initiate SSL session with different browsers.
After the installation, the website can be accessed through the standard https: a format that notifies the server to generate a secure link with the web browser. Once the connection is secure, the entire data transfer from that point of time will be secure.
Trusted Provider of Online Security Solutions Through SSL Certificates
Indglobal provides solutions, which allows businesses to engage in online communication with customers in confidence. Indglobal is leading web design and Development Company offering services in web hosting plans. We are Trusted SSL Certificate Service Providers in Bangalore helping you to keep your server and browsers securely connected to the web with secure SSL certificate. Our expert team will guide you with affordable SSL certificates Bangalore and unique plans.
Are all SSL certificates the same?
Now, almost all businesses use SSL certificate for security purposes but not all need the same type of encryption. For the same reason, SSL certificates come in different types depending on the level of confidentially you require.
What trust level you require
All SSL certificates offer secured sessions and encrypt all information submitted via the site. However, they are different when it comes to what all information is included in the certificate and how it is displayed in different browsers. There are 3 different trust levels for SSL certificates.
Extended validation certificates
EV certificates encapluslates almost all information about the company and it must meet the most highest and strict requirements to obtain this type of certificate. EV website security certificate also gives the most credibility to your site by bringing its verified identify front and centers. It is ideal for business portals involving online payment with credit cards, memberships and for government organizations. The green bar on the address bar indicates the EV certificate.
Organization validates certificates
OV certificates display businesses authentication, which means some information about your company is mentioned. However, unlike, the EV certificates, the information is not displayed in a prominent manner. To view the company identity info, visitors must view the details of the certificate. This type of certification is ideal for companies with dynamic websites and incorporate membership. Along with the basic encryption also encryption user info like username and related details.
Domain validation certificates
DV certificate is the most cheapest and easiest to obtain. It reveals less amount of identity info in the certificate. It is ideal for establishing a secure connection with personal blogs and websites. The certification covers basic encryption and domain ownership verification.
Why establishing an online identity is important
Just like each one of one has personal identification cards and your company has businesses license, in the same manner, SSL certificates are essential to establish a credible identity in the web. Once the browser starts connecting to a service, the service will exchange identification details with the browser.
Indglobal provides Affordable SSL Certificates Bangalore to install SSL certificate in your website to initiate secure transactions. We believe that each business must be able to provide trusted and secure user experience to customers with SSL certificates.
Important things to know before installing SSL certificates?
A dedicated IP address is required
To install an SSL certificate, a dedicated IP address is required. Unless you already have a dedicated IP, SSL certificate will not be added to your account.
One SSL certificate for one cPanel account
There is a limitation of one SSL certificate per cPanel and if more than one is required for a different domain, another cPanel account has to be created.
SSL certification is on an annual basis
Generally, SSL certificates come with a one-year validity and it is recommended to purchase a new SSL certificate with a new expiry date before your old certificate expires.
Indglobal not only helps companies obtain SSL certificates, it also offers the support you require from dedicated experts. We have been in the online industry for a decade with an ever-increasing number of active enterprise clients.
Indglobal deploys the best in class technology and gives the strongest bit encryption services along with value-added cast saving features to ensure your business website is always protected and meets the security guidelines.
Best SSL certificate providers in Bangalore
For businesses that put stock on the security of their prospectus and the credibility of their business and online website, obtaining SSL certificates is necessary. Trust is the most important aspect of any business and it is especially true in the vast internet world. Businesses just have mere seconds to establish a trustable relationship with customers online so making the most out of it is vital. That is why SSL certificates play a significant role in the success of any online website. SSL certificates are the most accepted and recognized global symbols of trust in the internet.
Let's face it. Obtaining an SSL certificate isn't always exciting but it is absolutely necessary for your company. The cost of ignoring is far better than the minimal investment of money and time. Here at the Indglobal, the Best SSL certificate providers in Bangalore, we pride ourselves in making SSL as simple and effortless as possible for our clients. When you collaborate with us for obtaining the SSL certificates, you receive the exact same certificates you would get from buying direct but for a significantly low and affordable price range.
Next Post ←
4 Upcoming Trends on Voice Search That Seo Should Watch out For
---
Request a quote or Talk to an expert
We guarantee a response in 6 hours or less. And the best bang for your buck.