Every one of us in the online web designing industry knows the truth: if there is no professional website designer, then creating a website can be a bit challenging. Using themes and templates can work, but you have to understand some rules to get the right results. And, also there is so much competition that sometimes you can feel other's websites look better than yours. Moreover, there are ample choices on the internet and there is only a short time to learn about practices that will help our website.
Therefore, in this blog, we will discuss some basic do's and don'ts of web design for effective SEO that are actionable, compelling, converting, and optimizing. Here, we have added eight elements of web designing and learned the do's and don'ts of each. So, without further delay, let us start further.
Elements of web designing for SEO and learned the do's and dont's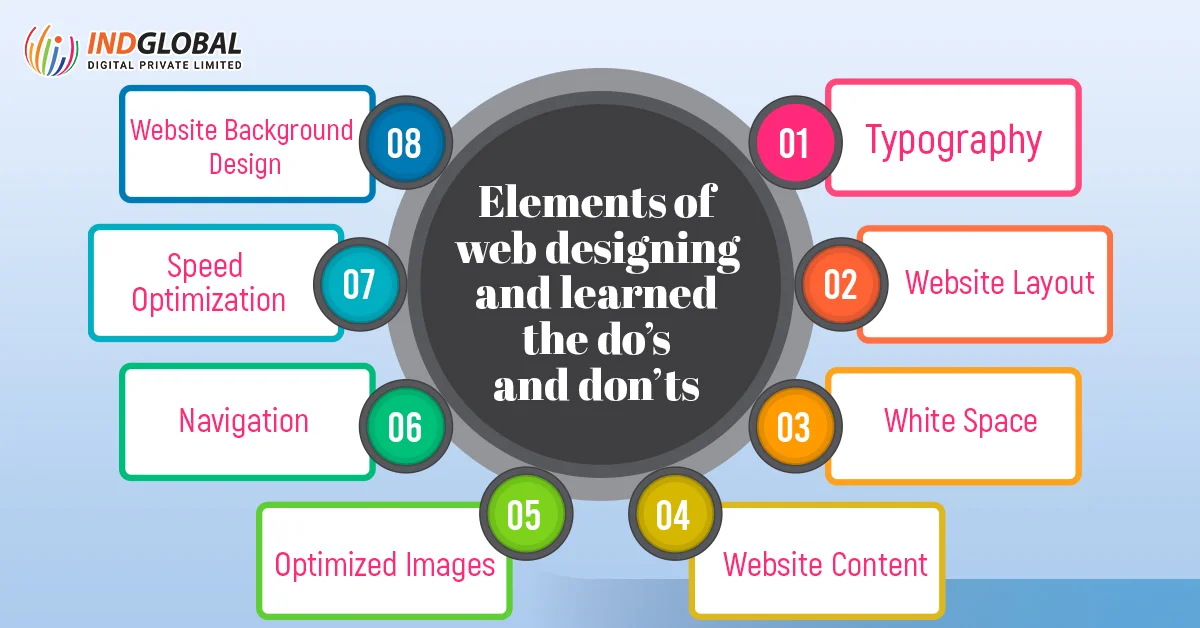 #Element 1- Typography
There is always a misconception that fonts are only available for web professionals and designers. But that is not true. When a business website is created, it is necessary to focus not only on colors and images but fonts also.
So, here are the do's and don'ts of typography that plays an essential role in brand perception. All you have to remember is that fonts should not be avoided and must be at the forefront of the web design process.
Do's of Typography
Add large headlines.

Give the right space between text elements.

Choose a font that matches your brand.
Don'ts of Typography
Do not use an unattractive and unwanted typeface.

Do not add continuous text in the capital.

Do not use more than two typefaces.
As a website designer, you should also know how to choose the best font for your website as different fonts have their visual appeal and mental image. Also, they have the potential to get the desired response from the users.
#Element 2- Website Layout
Before you start with the web design process, figure out the website layout. The layout is a framework or pattern that defines the structure of your site by providing navigation paths within the web pages by adding all the essential elements together.
Here, we have added the do's and don'ts of the website layout and know how you can develop a clean and sleek web design.
Do's of Website Layout
Use very common web design elements.

Focus more on creating user-friendly designs.

Make sure that the UX follows all the standards.
Also, the web design should enhance the user experience. And, for this, the first step is to assure an easy-to-use and standard user experience. The web pages should use basic design elements so that there is no need to think about the meaning of the components you have added.
Don'ts of Website Layout

Do not focus a lot on innovation.

Do not use a new and complex website layout.
#Element 3- White Space
As the name suggests, white space in website design is about providing text-free parts on your webpage. But, too much space can make the page look empty, so using it properly is essential. Also, it is recommended to not provide too little space as it can make your content look cluttered.                                                                                                                                                                                              
Do's of White Space
Surround the CTA with more white space.

Use large gaps to show the connection between features of the product and related content.

Keep one element distinct from another.

Make sure that all components can be easily distinguished from each other.
Don'ts of White Space
Do not overlook the white space.

Do not forget consistency. Use the same amount of space between each text line.

Do not forget the difference between major and micro white space.
One of the most perfect examples of white space usage is the website of Apple. Check their website and see how they have maintained the right balance between every line. So, to let your content shine on your website, have the ideal white space around the text.
#Element 4- Website Content
The text is the greatest asset of your website. And, to get more of your site content, you should see it from a strategic perspective. Therefore, it is recommended to refine the test and send a clear and powerful message to meet the needs of the target audience.
Do's of Website Content
Use bullets and numbers whenever needed.

Be concise rather than vague.

Provide informative and catchy content.

Proofread the content to make the webpage free from grammatical errors.
Don'ts of Website Content
Do not put ample text.

Do not plagiarize the content.

Do not add text without a brand voice.
To refine your texts in the right manner, provide a powerful brand message. Add a powerful tone of voice in the content using proper vocabulary that let the visitors stay on your website for a long. Therefore, to add appealing content to your website, you can contact the best web design company in Bangalore and get the desired content according to your website requirements. 
#Element 5- Optimized Images
Having good-quality images is very necessary for a website. Not only do good images provide an immersive experience, but they also tell the users about the brand. The images on your website will increase the website's search ranking on Google and also improve the customer experience.  
Do's of Optimized Images
Use Alt text to describe every image that you upload on your website.

Resize all images to optimize the appearance of the page and its speed.

Make sure to use images with rights and stock images.

Combine images with text.
Don'ts of Optimized Images
Do not use bad-quality images for your website.

Do not add photos of someone without their consent.

Do not spam the file name of the image with keywords.
It is necessary to optimize website images so that they do not consume a lot of cloud space and provide the best user experience. For this, you can even use plugins, apps, and software.
#Element 6- Navigation
Navigation is known as the cornerstone of website usability. In simple words, it is the main interaction element on your site. So, it is important to focus on this one. Having intuitive navigation of your business website is necessary to ensure that the visitors can always get what they are searching for.  
Do's of Navigation
Use familiar words in navigation.

Follow the three-click rule- the visitors should not be three clicks away from what they want.

Focus on adding clear labels for navigation.

Use contrasting colors for the navigation button and text.
Don'ts of Navigation
Do not hide critical navigation.

Do not waste the time of your users.

Do not change the navigation of every webpage.

Do not use fancy elements in your navigation.
There are times when web designers get creative with navigation, designs, and layout of the page. But it can harm user-friendliness. So, if you do not follow the standards, then it is difficult for the users to find the desired information they are looking for.
#Element 7- Speed Optimization
Speed optimization for websites is essential for all business websites for good SEO and an easy loading process. So, when you design a website, it is essential to use those elements that can load the site faster and better,
Do's of Speed Optimization
Use caching to store files like media, JavaScript, or HTML documents.

Minimize CSS and JavaScript.

Provide speed to high-traffic pages.

Use Gzip compression method to reduce the size of files.
Don'ts of Speed Optimization
Do not use bulky content.

Do not add external pop-up scripts that overload the web page.

Do not install extra plugins.

Do not use complicated codes.
Website speed optimization is called the trial-and-error process as it takes a lot of consistent effort. But, if you work perfectly, you will see good results boosting the customer experience and improving the SEO ranking.
#Element 8- Website Background Design
Having the ideal website background has a great impact on the users and increases the visual appeal of the website. The website background allows the website designers to boost the site's usability in several ways like unleashing the website's creativity.
Do's of Background Design
Use color UI.

Try contrasting like if your text is black, keeping the background light.

Use headers for an extra pop-up.

Use eye-catching components like illustrations or color splash.

Focus on blending images into the background.
Don'ts of Background Design
Do not use flash.

Do not add busy images.

Do not use low-quality images for the website background.
To use images for website background, choose an image that scales nicely with your website even on a small screen. For instance- if you pick a wide picture, it might not go well on your phone. So, select the picture and check its mobile-friendliness to add it to the website background.
#Bonus Element- Focus on scrolling rather than clicking
One of the studies suggests that users love to scroll over clicks. So, rather than hiding website content in sliders, pages, and accordions, try to put them all together in one long page that has the information for the audience scattered with desired white space.
Wrapping Up
If your website can easily boast simplicity with a straightforward design, then it is best to run your business effectively. Most of us try to make a unique web design to create complex pages for the website as it is always said that if there is less clutter, then there is better appeal.
Our web designers always encourage business owners to experiment and see what works well for the users. We also let them know that there is no rule in designing a website. The best web design does not stick to the rules. They only focus on user experience.
And, for more information on web design for your business website, it is necessary to meet someone who thinks like an artist, a business owner, and a user to get a high-converting and attractive website. All this can be available in one place: Indglobal Digital Private Limited.
At our company, we have the best team of web designers in Bangalore that has met the needs of the clients for the past several years. Also, with us, you get to work with a very professional and skilled team of web developers who have made us the top web development company in Bangalore. Therefore, without further delay, contact us as soon as possible and get your website designed at affordable rates.
Next Post ←
How to Build Secure Software 10+ Practices to Follow
---
Request a quote or Talk to an expert
We guarantee a response in 6 hours or less. And the best bang for your buck.