2020 and 2021 didn't turn out as planned. The pandemic affected almost every level, whether in how we communicate with our clients or conduct any user research. COVID-19 accelerated trends that were already in place. Homebound consumers dramatically had to change their shopping behavior, and millions of businesses began to invest in going online for the first time or in their existing ecommerce channels. Consequently, Brands are now looking forward to adapting if they want to stand high in ecommerce web design Bangalore the competition. 
The front-end app developers, in this scenario, however, hold a unique way to help merchants to succeed and thrive during these critical times. In this article, we tried to jot down the latest trends in online shopping that can define the essential e-commerce strategies and development techniques for the next 12 months.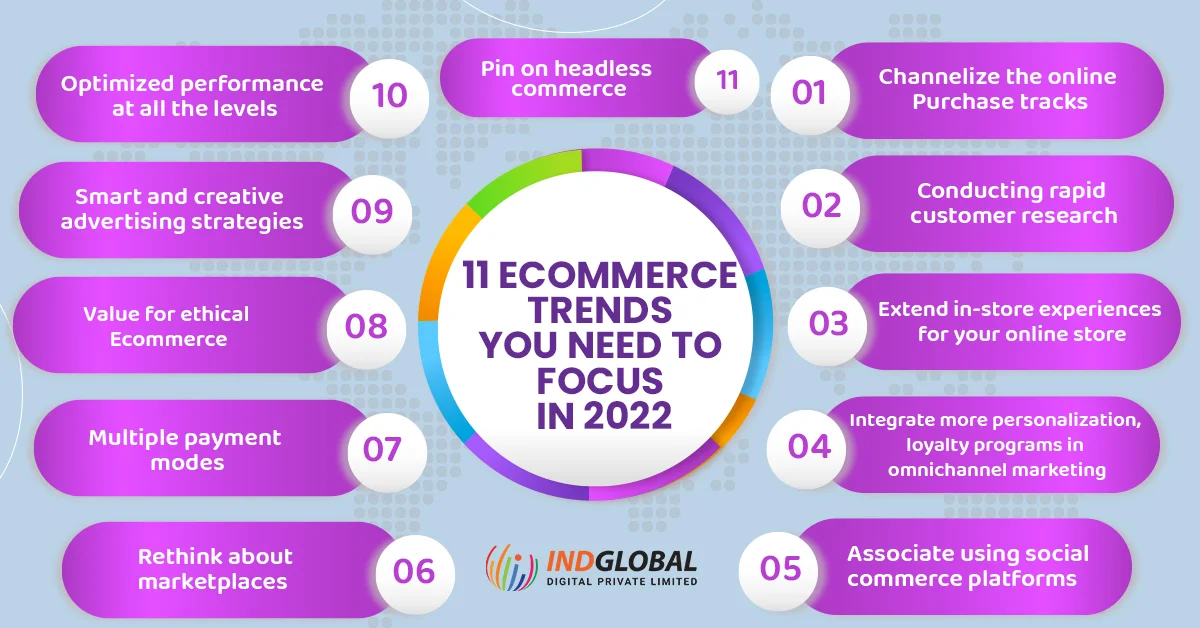 1. Channelize the online purchase tracks: 
Alex O'Byrne, the cofounder of Shopify Plus agency- We Make Websites, says that as a result of the pandemic, websites have emerged as the primary purchase path for many brands these days rather than a secondary method to in-store. 
He further adds, Ecommerce being a competitive arena, only the best technologies will draw higher conversions. Therefore, ecommerce website development in India needs to offer more than the significant ecommerce powerhouses to set a practical example and recommend focusing on the following trends for this year:
Robust search and filtering services provided by Kleva, Alogia, and Search spring.

Personalization should be appropriately applied, if possible, at each contact point, i.e., on pages, in search, in cart/checkout, or through marketing emails etc. and done as unobtrusively as possible.

It enhanced the purchase information of the products. For example, improved size guides and try-ons/ augmented reality.

Good speed loading with increased development practices and headless adoptions.

Streamlined returns and exchange policies as order volume in the home are higher.

For stores having a brick-and-mortar presence, a few ideas can be suitable for endless aisle concepts, in-store pick-up and unified inventory management.

We are keeping up with the commitment related to the delivery of the orders.

It improved consumer altruism—for example, non-monetary rewards for loyal behaviors.
For all of these areas, comprehensive services exist in the Shopify ecosystem, enabling you to enhance your brand's service or app without wasting much time and resources. 
2. Conducting rapid customer research: 
Steve Borges, the cofounder of experience design agency Big light, predicts retailers seeking to keep pace with customer needs, behaviors, and preferences will shift to rapid customer research to accelerate their innovation. 
As per him, innovation in the realm of customer experience will be a more crucial criterion than ever. But brands should also adapt with a focus on the customer needs, which means implementing customer research throughout the process right from concept to design." 
Moreover, carrying out extensive rapid customer research to validate big transformational ideas till tweaks and optimizations offer the clarity and certainty merchants need to adapt it quickly.
There are two possible ways to run meaningful customer research, either remotely or in days rather than weeks, because it doesn't require anything to be based on anything approaching a final design. 
Even properly planned concepts as a part of intelligently designed research can point to what is likely to work in this new reality and what is not or what issues might emerge later regarding the tweaks and optimizations that are likely to boost the performance or remove any friction from the customer experience. Last year several global brands were opting for rapid customer research at the center of experience innovation. 
Grow your business with our Shopify Partner Program
Whether you are looking for web design and development services or want to build apps in the Shopify App Store, as a premium ecommerce website development company in Bangalore, we can set you up for success. Join for free to access revenue share opportunities and developer preview environments along with educational resources.
3. Extend in-store experiences for your online store: 
It is predicted that merchants will find more creative ways of fixing the gap between in-person and digital retail experiences, simultaneously rendering new ways of searching and comparing and purchasing products to the customers. Specifically, advancements in augmented and virtual reality (AR/VR) are to be seen, and progress in online customer services is expected. 
Augmented and virtual reality: 
While it's not the same as seeing a product in real life, AR/VR experiences help give customers the insight required to make a purchasing decision. Shopify Plus merchant The Sheet Society has adopted this with their AR-enabled Bed Builder, allowing the customers to visualize how their linen can appear in their actual room before buying it. This gives customers confidence in their decision and reduces the risk of bearing the cost of a return.
Virtual services:
One of the best advantages of in-person retail is to forge a direct connection with a potential customer in the store. Many merchants look forward to providing online services like one-on-one live chat. But, in 2022, businesses are expected to go the extra mile. 
Designer furniture retailer Broas, for instance, has started offering a whole showroom experience with virtual tours and also provides consultation via video call. Car dealerships—businesses that conventionally thrive on in-person sales—have begun adopting a more unique and compelling online experience.
4. Integrate more personalization and loyalty programs in omnichannel marketing: 
It simply means that brands can collect cross-channel data by offering buyers a way to purchase products more often and conveniently by referring to their networks seamlessly. Before the pandemic, a few loyalty programs used to be only there in the physical store.
In 2022, it's going to be an automatic and extended experience to buy something from an e-store and receive a thank you text or email instantly acknowledging your purchase with extended offers and a few referral opportunities from almost every size of ecommerce business.
This experience contributes to building a profound connection with the customer, delivering them what they want to shop for along with the value.
Several data collections and omnichannel marketing strategies are coming up for average stores with both a physical and an online store. As the brands fully realize the potential of these online and offline avenues and personalize it, the more convenient it will be to build customer loyalty
5. Associate using social commerce platforms:
Successful stores can sell across any platform and channel and connect with their customers where they spend most of their time. Therefore, merchants need to get more creative with engaging with customers due to the prevailing pandemic.
The arena of social commerce will be an exciting space as these platforms can continue to collaborate. Facebook Shops, for example, enables brands to craft a fully customized online storefront allowing their customers to browse and buy products through Facebook apps, with checkout features powered by Shopify.
On the other hand, Instagram has adopted a live shopping experience that enables businesses to feature products in a live video, where customers can browse the highlighted products and go ahead for purchases.
6. Rethink marketplaces: 
Marketplaces, such as social ones, will play a much more significant role in a brand's overall strategy. Undoubtedly platforms like Shopify have empowered the merchants to manage their direct-to-consumer experiences, and the shape of these marketplaces is expected to evolve at a much higher rate.
Native platform apps
Shopify's Shop app, though it originated as a simple way for customers to track their orders, has emerged as a powerful tool for merchants to directly recommend and also sell products to customers through the app.
This extension of customer interaction extends an opportunity for brands to stay more engaged and offer better-targeted services and products. Customers can follow their favorite brands, and at the same time, they are provided with a feed of products that they may be interested in. Shopify is expected to continue expanding Shop's capabilities and thus create a rich marketplace of brands more personalized to the individual customers.
Big box marketplaces
Despite an enormous rise in independent ecommerce brands, the traditional "big box" ecommerce marketplaces are also growing at an equal pace. This has opened up a massive opportunity for brands to tap into these marketplaces, accelerated by pre-built integrations like Shopify's Walmart sales channel.
Editorial-centric marketplaces
Editorial marketplaces like Gear Patrol have successfully carved a niche in the intersection of curated products and brand collaborations and highly-editorialized product content. They have shifted from a product-focused blog to a complete marketplace built on Shopify, and they opened the door for other brands to extend unique collaborations and promotions.
Delivery apps
The onset of COVID-19 undoubtedly accelerated the adoption of delivery apps as a source for groceries and takeouts. As consumers were accustomed to purchasing through their mobile and expecting local delivery, we saw an expansion from food and groceries into a wide range of products delivered online. Merchants also considered exploring third-party local delivery partners, or they configured their local delivery with several apps such as Shopify Local Delivery that can provide a self-managed option to retailers.
7. Multiple payment modes:
We are looking forward to seeing more payment options than those merchants offered in 2021. Digital wallets such as Apple Pay will be the default payment method overtaking credit card payments. Financing solutions will emerge as a must-have feature, with more merchants running multiple financing options. Cryptocurrency is also predicted to be finally legitimized as a payment method suitable for more than just the dark web.
But these views are US-centric, and obviously, these trends will be portrayed differently globally as ecommerce will explode worldwide, and transactions need to occur in more ways than ever.
8. Value for ethical ecommerce:
According to an IBM retail report, the concept of the conscious consumer has risen, with approximately 57 percent of shoppers willing to help reduce negative environmental impact. As a trend, consumers actively seek out local and independent businesses that reflect their values. For example, Shopify is taking essential steps to help combat deforestation and the carbon crisis. It is also observed that customers now purchase items with a principal purpose.
There is a considerable growth of small- to medium-sized ethical and sustainable brands over 2021, and customers are seeking honest and transparent brands about their products being eco-friendly to nature. Therefore, if you think you optimize an ecommerce site in 2021, carefully consider a few options to ensure you build them on green foundations sticking to sustainable values.
9. Smart and creative advertising strategies: 
3D graphics and CGI are expected to be used more in adverts in 2022, especially in the beauty industry, as It is an excellent option for advertising the products. It proves to be more time-saving and cost-effective than traditional campaign shots.
With CGI animations, it is easier to edit the final result in several ways, and these are smoother to organize. Brands can add a personal touch to pop-up events by creating limited-edition filters for Instagram. Because of the pandemic, physical events are on hold, and a good alternative could be an art installation for the next few months as consumers always appreciate brands that think outside the box.
10. Optimized performance at all levels:
Performance is always one of the crucial features as faster stores can convert at a higher rate. 2022 will be the year when store owners will work hard to fix performance-related issues on every level.
Themes that claim to be performant will proliferate more. Apps will be slimmer, and Server-side image compression can emerge as a norm.
The only thing that will matter for the performance of an ecommerce store is the time it takes for customers to load a page. To learn your ecommerce store's real-world performance, you can also take a look at Google Analytics' "Site Speed," which will tell you how long approximately it takes to render each page on different platforms and devices.
Google Chrome can also measure page speed and overcome poor network conditions and low-quality cell networks. Investing in performance is a conscious choice, as it is an ROI-positive activity. Performance optimization thus is an easy win that is always within your control, and that's worth something today and in the year to come.
11. Pin on headless commerce:
This year there is an assumption of inclusion of a headless architecture, decoupling the backend of an ecommerce store apart from the customer-facing end, expected to provide merchants with a blank slate to construct a new storefront with their choice of the content management system.
Additionally, by adopting headless, merchants will be able to use Shopify more conveniently to continue improving transactions and handling their product management in a better way. This can be more common with mid-sized and enterprise businesses looking forward to gaining more control over their site as a whole.
It is easier to utilize a modern tech stack and a headless approach such as React and Vue.js and even observe a significant performance boost by transforming the storefront into a progressive web app. Services such as Nacelle and Shogun Frontend handle the API data layer entirely for you so that you can build a unique, high-performing storefront experience.
Going headless might also have its drawbacks. However, if the merchants are not using the Shopify theme customizer and can learn the inner workings of a new content management system like Contentful, Prismic, or Builder, then it's better. They also need to be careful while using certain Shopify apps if they don't possess an API to integrate into a headless storefront. Finally, we can sum up that this approach requires more time-intensive developer resources to craft and maintain the storefront.
Put an extra effort to assist your clients and users in 2022
Book a free consultation!
Next Post ←
How to choose the right software development model for your project?
→ Previous Post
Digital Transformation in Healthcare current trends in and Incredible Healthcare Software that You should be aware of before investing
---
Request a quote or Talk to an expert
We guarantee a response in 6 hours or less. And the best bang for your buck.