The World Wide Web has well established itself for more than three decades. While the Web was originally designed to meet the requirement for automated information-sharing between scientists in institutes and universities spanning the globe, it actually evolved to be the backbone of today's economy. The world of the web is really evolving at a fast pace and web 3.0 has arrived to reconstruct the e-business success metrics. Millions of people and businesses benefit by using the Internet each day with the help of the best web design and development company in India. It has undoubtedly transformed human society to a whole new level. 
The web as we experience it today is known as web 2.0 or the social web which enables the consumption of content from various sources. However, a revolution is on the verge as web 3.0 includes a smarter, fairer, and smoother web experience to its users.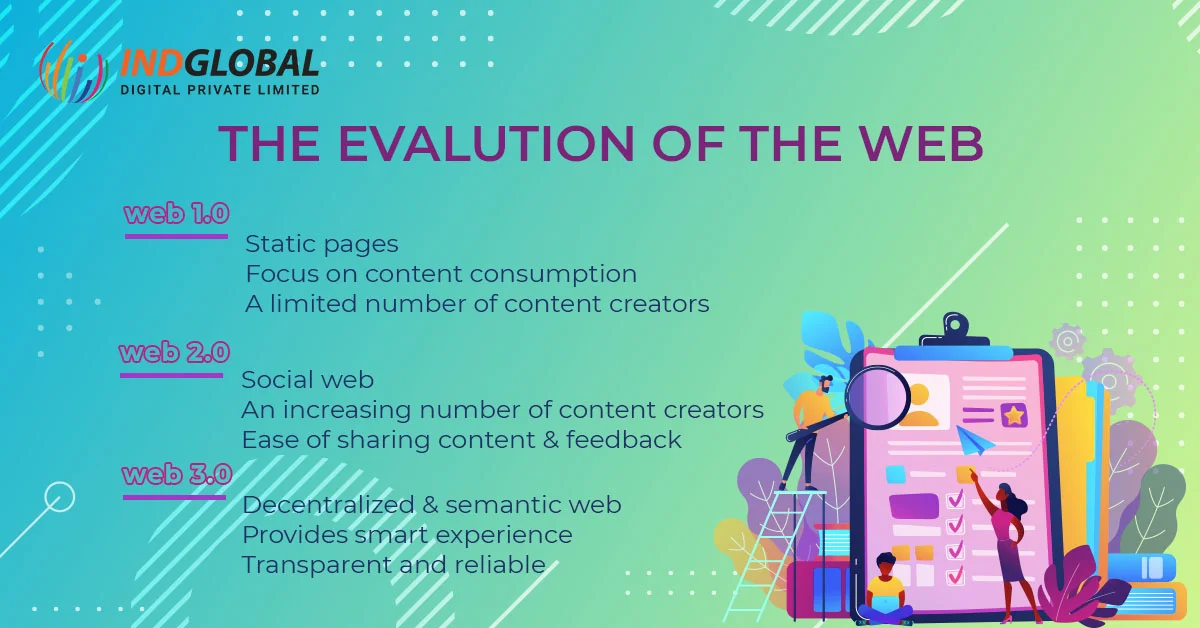 Web 3.0: The Definition-
There may not be a set definition for Web 3.0 yet. But after considering all its aspects and parameters for its contribution to web development in India, we tried to present a basic level definition explaining web 3.0 in a nutshell.
"Web 3.0 is an Artificial Intelligence /machine learning-driven web version that will provide the users with relevant, and valuable search results based on the context of their search, and not only the keywords. Additionally, Web 3.0 is also aimed to eliminate the data monopoly with an implementation of decentralized systems such as blockchain to protect the user data from being misused."
How are Web 3.0 based websites different from previous versions?
The creatives behind elegant web design Bangalore are more comfortable with using the background elements incorporating shapes and curves to impose a particular navigation path to streamline the complete design. When implemented properly, these shapes would help highlight the valuable content and thereby provide a smooth UI. Additionally, Web 3.0 design uses a lot more illustrations, and shapes and blobs used are able to highlight valuable content simultaneously providing a pleasant UI (User Interface). Web 3.0 Designs is believed to contribute more for web design India and utilising many illustrations and visual content. It enables companies and businesses to enrich pages and illustrate specific causes, products/ services and to offer a pleasant user experience along with such beautiful illustrations and content thereby keeping up the trust and reputation of the brand.
The most significant change is undoubtedly the addition of creative elements. Designers are using animations and icons efficiently to enhance and gamify the user experience. Typography is another significant change worth mentioning which can be used to draw the users' attention and thus become an integral part of the overall design.
An Overview of Web 3.0 Design:
How well does your website fit into the new requirements of web 3.0? There may be several answers to this question. However, the consensus believes that web 3.0 is blooming currently at the initial stage. The kind of decentralized and semantic web vision is still far from being achieved including few features being already implemented within our regular web experience.
As an experienced web design company in India, we are working to create better and successful design/development solutions. And that's how we tried to unearth some specific trends that are going to be necessary for your website's success in the web 3.0 world. Here we present a comprehensive list of all of them.
A. Designing For An AI-Driven Web-
This concept primarily depends upon the use of AI and machine learning. Therefore, undoubtedly AI is going to have a bigger impact on design in the near future.
The aim is rather to create more smooth and frictionless web designs to make the user experience free sailing. Using AI frameworks, developers and designers will have a better idea of what kind of aesthetics the target audience actually expects from the web 3.0 design trends. Additionally, expert design agencies will be able to specify the design requirements based on several data points such as age, gender, location, profession etc. The use of data to design such an effective website is already a common practice. But it can be expected to reach industry standard in the near future.
AI in web 3.0 website design comprises ADI, also known as Artificial Design Intelligence. Considered to be the scourge of web developers worldwide, ADI is believed to experience a boost shortly to streamline the design process more effectively.
With ADI, web designers and developers will be able to reduce the amount of repetitive tasks that they have to perform thus enabling them to create dynamic web designs to offer an enhanced user experience.
B. Optimizing The Website For Semantic Web
According to web 3.0's biggest USP, it will be able to provide the users with more contextual search answers apart from the general keyword-based results. And to succeed in this scenario, the website is required to be optimized well with the smart voice search features.
For instance- when we use the word 'mustang' on a search engine it shows us the  results related to Ford Mustang, the famous car. But the mustang also happens to be an animal. Thus, the semantic web will be able to understand the difference of context in the usage of keywords and provide relevant results.
Since the traditional search practices are transforming rapidly, the users wish the web to understand what they try to mean with their queries, rather than what their search query exactly means. Our experts suggest it can be accomplished by using the extensive data sets on the target users, along with structured data for web design 3.0.
AI-driven data analytics features of web technology enable us to focus more on the finer details of the end-users, thereby understanding the context of their search activities in an improved manner. For example, let's think about a user who searches for a smartphone within budget online. Having a deep insight into their phone usage, as in what sort of activities they usually perform with their phone will enable the search engines to display phones that suit their activity profile perfectly.
Structured data can also be the key to the semantic web later in the future. It can be regarded as a solution that is used to label data within a piece of content. This labeling practice enables the search engines to understand data in an improved way and provide more contextual search results.
C. Transitioning Focus On Multimedia Content-
For the last few years, there has been a significantly observable shift towards multimedia content, and there is no doubt that the emergence of web 3.0 is just going to accelerate that shift because of three distinctive reasons-
The website content needs to be more dynamic, thereby being able to fit the conversational tone of voice search queries in order to keep up with the voice search trend.

Multimedia content will become more preferable as people are leaning more towards audio and video content and with the web 3.0 design trends that is easy to consume anytime anywhere.

The ubiquity that is promised by web 3.0 is expected to provide more experience-based content on the websites. Therefore, your website content must be optimized enough for an experience-based approach as the traditional content delivery approach might not be possible through smart IoT devices.
D. Crafting an improved Web Reality through AR/VR Augmentation:
Despite being quite famous in the design sphere, augmented reality (AR) and virtual reality (VR) are still not being used to their capability. However, they are going to be one of the essential design elements for web design 3.0. The application of AR/VR tech will definitely improve the quality of experience-based interaction and overall transparency.
Regardless of your website being on an up-and running eCommerce platform, or a B2B vendor, a lifestyle website- the use of AR/VR is definitely going to take the experience to the next level. This technology will enable the users to effectively experience the product or service even before they make their purchase thereby helping them to make better and informed decisions.
Furthermore, the use of AR/VR will not only increase the transparency level of user interaction also, they will be more assured of the quality of the service when you give them a look of the service they are supposed to acquire. Thus web 3.0 websites will be better accessible through this technology and the internet of things devices.
E. A Ubiquitous Design comprising Web 3.0 and implementation of Internet Of Things:
One of the many aspects that distinguish Web 3.0 from the other versions is its ubiquity. It is expected that when web 3.0 is finally here, we'll actually be able to access the web from any place, and anytime.
The ubiquitous feature of web 3.0 is here already for which thanks to the internet of things. The connected devices, which range from our laptops and phones to several other household objects enable us to connect to various services online. And therefore your website design needs to be updated for IoT to become a part of this connected future.
While designing for IoT 3.0, the success depends on the user interface. Popular smart devices, like smart hubs or smartwatches come with limited processing power which implies that the user interface needs to be perfectly optimized in order to make the platform work on these devices. A faster and better agile design process along with the design best practices may be necessary to create such a perfect user interface.
Finally, a lot of IoT concerns are basically associated with the security aspect as the device may not be very secure with limited processing power. So, keeping that in mind, your web design partner company must take every security measure to ensure that the website doesn't have to face any extra threat to the user's data security in any way.
F. Chatbots enabling Extensive Semantic Web Support-
The web 3.0 features like semantic web and its impact on web design had already been discussed in the previous section. And, there is another side to creating a semantic experience on the web which is none other than chatbots.
You either already have a chatbot on the website, or probably may be planning to integrate one as Modern chatbots are of higher quality, that are able to provide plenty of information and thereby help the users. However, it is nowhere near close to what a human will be able to accomplish. And that is the reason why you need to ensure that your web design & development company partner uses the latest technology stacks like GPT-3 during the chatbot integration process.
GPT-3 or Generative Pre-trained transformer 3 is an AI tool that is pre-trained. It means that unlike the traditional AI-based chatbots- this text generation algorithm is already equipped with the necessary data with which it is able to create any content that has a language structure and the implementation of such technology for the chatbot operation on your website will undoubtedly take you closer to making your website fit the web 3.0 standards.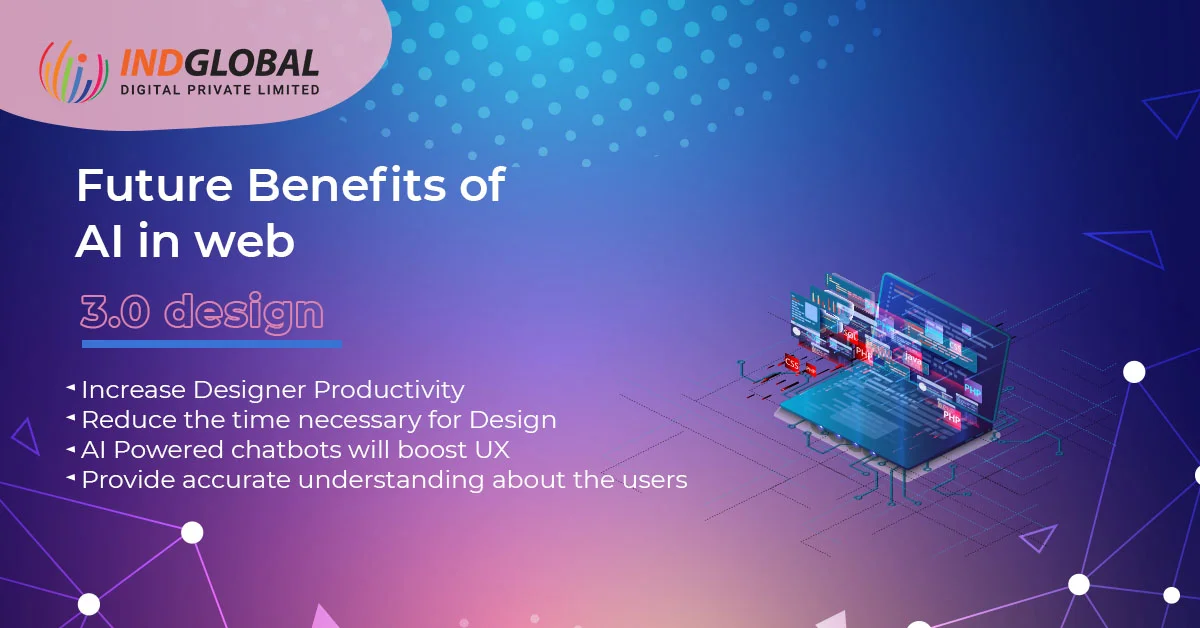 Features of Web 3.0
In the Web 3.0 version, the Web provides and displays better relevant search results that resonate closely to the search terms of the users. It also gives searchers an environment of continuous search with a focus on the keywords. The search results also take into consideration the search intent of the searchers.
Four key features that Web 3.0 comes with to define how this revolutionary update works. 
Semantic Web
The Semantic Web augments the Web technologies to create, share, and connect content via thorough analysis and search based on comprehending the meaning of the keywords instead of the numbers or keywords.
It enables the data to be shared within different platforms, systems and community boundaries. 
Artificial Intelligence (AI)Artificial Intelligence
Combining Artificial Intelligence with the natural language processing or NLP in Web 3.0, computers will be able to distinguish the information just like humans which enables them to provide faster results that are more relevant. Machines have certainly become more intelligent today to fulfill search requirements of humans.
Improved Connectivity
With semantic metadata, 3D designs and environments are currently being used widely in complex websites as well as specific web services. HD games, Museum guides, horror simulation environments, or roller-coaster simulation, eCommerce and online product checking- a lot more fall under this category. Better connectivity is enabling the users to find all the available information at just their fingertips.
Ubiquitous design
Ubiquity is a new feature of Web 3.0 where the content is believed to be accessible to devices through several applications where every device is connected to the web. With this new feature, users can avail better and improved services regardless of their location. 
Web 3.0 Is Almost Here, so are you ready for the Transformation?
As evident from the above discussion, Web 3.0 focuses more on the use of technologies such as ML, and AI to offer better content to the users as per their  search queries. Web 3.0 is a whole new era of web development. The highly sensitive, and AI/ML-based web is believed to enable a fairer web experience that is not going to be riddled by the friction of the modern web. And to be a part of this frictionless web, your e-business platform needs to transform and fit with web 3.0 design trends. Leveraging the design and development aspects mentioned above, you need to just make the best of this next age of web revolution.
Want more customized intel on how to best optimize your website for web 3.0? Looking for the perfect tech partner to transform your site for the future? Give us a shout-out, and let's get working.
Next Post ←
How COVID-19 pandemic triggered the digitization and growth of e-commerce
→ Previous Post
Dapps or Decentralized Apps and its Importance in the future of Decentralization
---
Request a quote or Talk to an expert
We guarantee a response in 6 hours or less. And the best bang for your buck.