Though WordPress powers more than 41% among all the websites on the internet, it is not the only open-source content management system i.e. CMS in the market. There are several other popular software options currently available such as Joomla and Drupal.
These three have a lot in common and several significant differences too. Each one of them is apparently unique website builders with their own set of pros and cons.
And contribute significantly to the web design Bangalore. In this article, we tried to present a comparison between WordPress, Joomla and Drupal to portray their features.
What's Common in WordPress, Joomla and Drupal
These three web's most popular CMS have a lot of features in common in terms of technology, philosophy, and community. As a leading website development company in Bangalore, we tried to jot down the common features of these three.
WordPress, Joomla, and Drupal are all free.

All of them are

open source

software licensed under GPL. 

All three of them are primarily written in

PHP

.

They support

MySQL

as their database management system. 
-WordPress exclusively supports MySQL, whereas Joomla and Drupal also support other database management systems.
All three use

themes

and templates for the visual appearance of sites, and

plugins

, modules and/ or extensions for extending features.

As open source software, they all are community-driven projects.
Even though there are a lot of similarities, they are different in many aspects that make a big impact on users and also on how they build their websites and provide web development services.
Ease of Use and User Friendliness
Most people crafting ecommerce websites are not web developers, web designers or programmers. They are mostly users who just wish to build a website and for whom ease of use is the most important factor.
WordPress
WordPress offers a famous five minute install. Most WordPress hosting providers are  also providing one click install of WordPress which makes it fairly easy for any user to start a WordPress blog or website in minutes.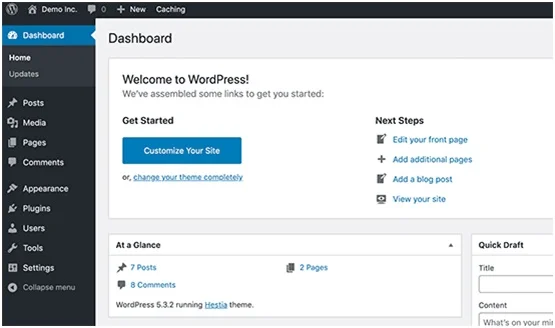 The post-install user experience of WordPress is also better as compared to that of Joomla or Drupal. The user gets to view a simple clean-cut user interface with the means to create posts, pages, or start customizing appearance and themes.
Joomla
Joomla installation may not be as quick as WordPress, but it has very similar steps. Apart from that many of the shared hosting providers now offer one-click install packages for Joomla.
Post installation, the user comes to a control panel that is not as straight as WordPress. There are too many menus to click on and customize your site.
Drupal
Drupal's installation is similar in a way to both Joomla and WordPress. You just need to download and upload the package and then run the installation script.
Drupal offers distributions which are pre-packaged Drupal bundles with modules and configurations to create a specific type of websites.
The post-installation experience for beginners is quite complicated as they find it difficult to figure out how to alter or modify stuff on their site. Though Drupal makes it very obvious about how to add the content, changing appearance and adding the non-content elements is not so obvious.
Theme, Plug-ins and Addons
All three of these popular CMS offer many themes and plugins and /or modules as a way to extend the appearance and the features of the software where themes control the appearance of the website and Plugins or Modules are just like apps for your CMS.
WordPress
WordPress enables its users to change their site's appearance using themes and it also offers a few default themes pre-installed. At any given time, you can just click on the add new button from your Appearance page and install the free WordPress themes from the official WordPress.org theme directory.
Apart from free themes, you can also check many more premium WordPress themes developed by some third-party theme shops such as StudioPress, Astra Theme, Elegant Themes, etc. These are mainly paid themes and they come with premium support options. WordPress includes many plugins. For instance, there are over 58,000 WordPress plugins which are available for free in the official WordPress plugin directory. You also have an option to buy premium plugins that come with a paid support provided by plugin developers. 
Joomla
Like WordPress, Joomla comes with several templates and extensions. There are good extensions to accomplish just anything from creating an eCommerce store to managing the email notifications.
However, the quantity of these templates and extensions is limited with Joomla. This could make selecting the perfect template and the extensions a bit difficult. Also, Joomla does not have a feature by default that would allow users to search and install the extensions or templates from the admin area. There are extensions that allow you to add an "install from web" feature for extensions. But for templates, users still need to manually search the templates and then install them by adding their URL.
Drupal
Drupal also offers a limited number of themes and modules. Users need to leave their site, search for the module and theme that they wish to add, and then locate the project's zip file URL. Finally, it also enables the users to enter the URL in the Modules and/ or Themes page to install them.
Support Options
The availability of the help and support options is very crucial for any beginner. There will surely be some obstacles when you are trying new software. But it's easy as long as you can get help.
WordPress
WordPress has a large and strong community of users. You can find WordPress help on its official support forums, docs, handbooks, as well as codex, Slack channels, Stack Exchange, also on the WPBeginner Engage facebook group, and almost each and every forum about web design and development on the internet. 
Sites like WPBeginner contain hundreds of tutorials and articles catering to the beginner level WordPress users. There are several ways to check for free WordPress support and get it. Apart from these free support options, there are other ways to get paid support for WordPress as well.
Online platforms such as Codeable, UpWork, Fiverr, etc. are some of the sites where you can hire WordPress professionals to help you. Due to the popularity of WordPress, getting WordPress developers is quite easy and affordable for startups, small businesses and individuals.
Joomla
There is quite an extensive documentation on the Joomla website which is indeed a valuable resource for beginners. Users are also able to join forums, mailing lists, user groups, etc for more interactive support.
There are also available third party resources, paid training, and development agencies which can be helpful.
But, finding affordable expert help is a bit difficult for Joomla. Hiring a developer or an expert for Joomla development, troubleshooting or assistance can cost more than that in WordPress.
Drupal
Drupal offers a very proactive community of fans and users. You will be able to find all the community support options for Drupal similar to WordPress and Joomla. There is also available documentation, support forum, mailing lists, user groups, chat rooms etc. 
Drupal enables users to connect to developers and companies by offering professional Drupal services which you may be able to find in Drupal Marketplace. However, Drupal developers are similar to Joomla in being expensive when compared to WordPress.
Localization & Multi language Support
A large percentage of websites are built each day, some of which are non-English or multi-language sites. It is more likely that the beginners would probably be looking for a CMS that is able to handle multiple languages or has support for diverse locales and languages.
WordPress
WordPress does an excellent job by offering a good platform to create a multilingual site. There are some excellent plugins that enable you to easily create a WordPress multilingual site.
WordPress is also available in more than 57 languages. New languages can be easily installed with a click from the WordPress administrative area. Most of the popular themes and plugins as well are available in multiple languages. Theme and plugin developers seek help to translate their packages into other languages.
All these efforts surely make WordPress a great platform to build a non-English or a multilingual website.
Joomla
Joomla comes with an excellent capability to handle any multilingual website without installing any extension. You just need to go to the language manager, add a content language and begin the process of creating multilingual content on your website.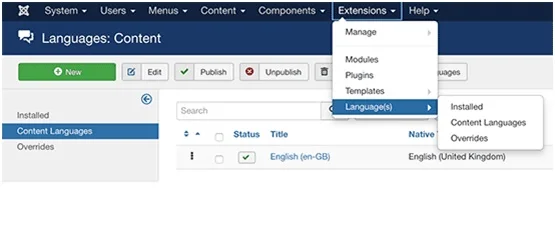 Translations are further available for the admin interface in many languages and they can be installed from the admin area.
Drupal
Drupal includes built-in support to handle multilingual sites. You just need to enable the locale and content translation modules post which you can add site and the admin interface languages from Drupal's configuration section.
So, it's evident that all three of these support multilingual sites and they are available in multiple languages.
Security
Security is undoubtedly a very important factor while choosing a CMS for your website. Almost all the websites on the internet are vulnerable to security threats.
WordPress
WordPress based websites are often targeted by hackers as they are the most popular CMS in the world. However, WordPress is actually built on a very secure code, and it responds to the security vulnerability very quickly.
WordPress further offers an auto-update mechanism that enables WordPress websites to automatically update whenever there is a new security patch. WordPress sites can also be further secured with automated backups or two-factor authentication, and several other WordPress security best practices.
There is a built-in mechanism to show updates for the WordPress themes and plugins which allows themes and plugin developers to respond to any security vulnerability rapidly.
Joomla
Joomla is almost similar to WordPress when it comes to security concerns. These actively respond to any security vulnerability and are very quick as well to patch it up. However, maintaining a website and installing the updates is still up to the user.
There are extensions which are available to backup your Joomla site. You can further strengthen your Joomla site's security by following the best practices as WordPress.
Drupal
Drupal also takes a very serious approach to security. As and when the security vulnerabilities are discovered and patched, they publish them on their own site. There is an assumption that Drupal is more secure as you don't get to hear about Drupal sites being hacked as often. But that could possibly be because of it not being so popular as Joomla or WordPress.
Wrapping it up:
Drupal, Joomla, and WordPress are no doubt all brilliant content management systems. Additionally, Drupal and Joomla come with more built-in features than WordPress.
However, WordPress surpasses them with its ease of use, an enormous global community, plugins, and themes. We feel that most non-developer beginners find it much easier to build an excellent website with WordPress than Joomla or Drupal.
With more than 55,000 WordPress plugins, you can just add any feature or build any type of website that you prefer without writing any code.
Therefore according to us the Overall Winner is WordPress
Get Started With Your Favorite CMS
Whether you choose WordPress or Joomla or Drupal, you will definitely need a domain name and website hosting to build a website.
Luckily, these three top CMS software have almost similar requirements which means that all top web hosting companies support them.
We recommend going for either Bluehost or SiteGround. They are both among the largest hosting companies and they specialize in hosting WordPress, Joomla, and Drupal websites.
For more recommendations, you can also refer to our web hosting guide for beginners.
If you wish to begin with WordPress, then you can check our beginner's guide which contains step by step instructions for building a wordpress website.
We sincerely hope that this article helped you to compare WordPress, Joomla and Drupal, to check for the most suitable CMS for your site. If you liked this article, then you can subscribe to our YouTube Channel for WordPress video tutorials. You can also follow us on Twitter and Facebook.
Next Post ←
An overview of some eCommerce Website Development ​Pitfalls that might cost your brand
---
Request a quote or Talk to an expert
We guarantee a response in 6 hours or less. And the best bang for your buck.