Online and Offline Doctor
Consultation App
Registered Users
Registered or guest users can book appointments with doctors, clinics, hospitals for online and offline consultation. They can also book lab tests and order medicines online.
Hospitals & Clinics
Hospitals and clinics can manage their appointments with patients and can manage their medical records for further reference with ease.
Labs & Pharmas
Labs can get their orders for lab tests and can send their collection agents for collecting test samples. Similarly pharmacists can take up medicine orders through this app.
Home Care & Emergency
Obtain Elderly Care assistance like Doctor's house visit, Nurse assistance etc. Notify a General physician or an Ambulance within seconds by clicking the emergency button.
Insurance & Corporates
Purchase Insurance policies, renew and make a claim through the app. Educational institutions and Corporates can avail valuable medical assistance on registration.
Wellness
Discover the services like Blood Banks, Alterative Medicine, Ambulance along with other emergency services and wellness service providers like Gym, Salon and Spa.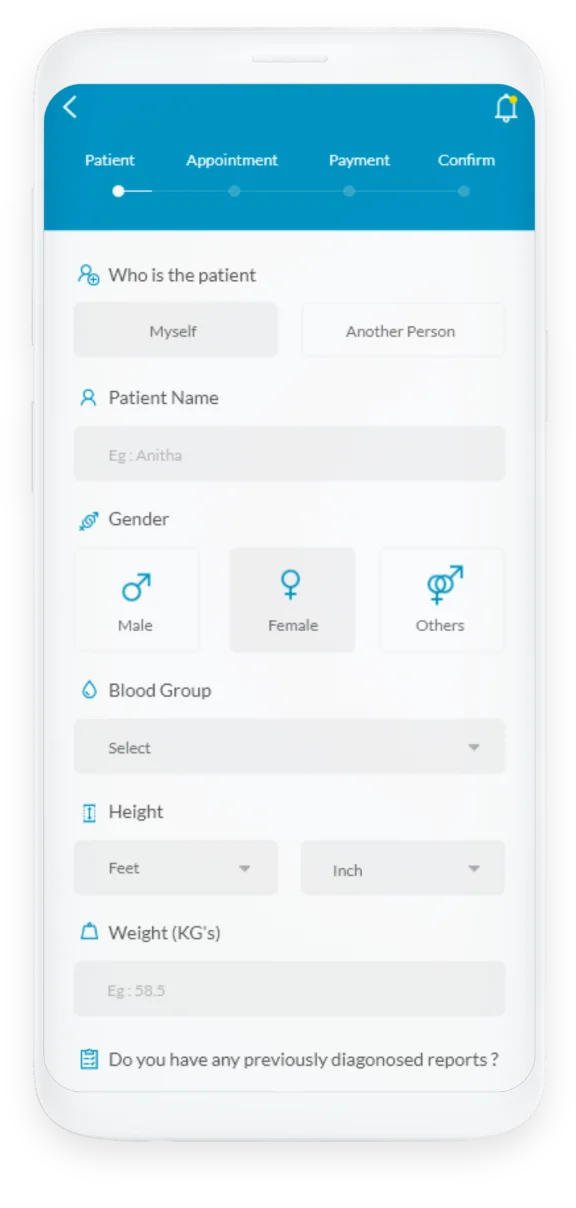 For Patients
Registered users or guest users can search for doctors, clinics or hospitals based on speciality, symptoms or directly search for a particular doctor or hospital and can book online or offline consultation and can also pay through app or pay by cash.
Refine your results
Customise your search results by filtering your list of doctors based on date and time of availability specialty, name, location, availability, language, price, experience and ratings and review.
Input details before visit
Users can input their current allergies, symptoms, medical reports, medication before appointment so that the doctor has knowledge about your health condition prior to consultation.
Appointment reminders and many more
Users will get appointment reminders through mail, sms and push notifications. Users can also book appointments for their family members and create profile and medical history for them too.
What's for the doctors?
Doctors, clinics and hospitals can create their profiles and upload their availability or time schedules. They can view patients medical history and can view symptoms and provide online consultation, and can also accept or reject appointments for face to face consultation. Call recording and re-scheduling options are also available for users.
Hospitals can have receptionist logins to manage appointments based on availability of multiple doctors. Doctors get their dashboard for appointments, slot management, fees, ledger, signature, feedback etc.
Labs
User will select date and time for sample collection slot and make payment online Lab admin will assign collection agent to collect sample from home Collection agent will collect sample and confirm collection on his app Sample is submitted to lab
Lab uploads report online for user to view on web or apps
Online Pharmacies
Pharmacies can upload category wise medicine listing, auto suggestion for medicines, automated medicine refill reminder system. They can also track customer order history, customer transactions and order status.
Pharmacies can upload discount coupons and offers. They can accept bill payment through credit/debit cards, wallets, cash on delivery.
Fitness Band SDK Integration
Show Vitals, Graphs and other data on the app
Upload same data to server to be available to call center / backend
Data is available to user for future reference
EHR – User can securely upload their reports / prescriptions on the cloud and share with the doctors / providers on request
Admin
Admin can approve or reject a user, doctor, clinic, hospital, lab or pharmacy. Admin can have the overview of the complete bookings, reviews and ratings happening through the app.
Admin can also view, edit and delete details or complete profile of a user, doctor, clinic, hospital, lab or pharmacy.
Delivery Boys
Nearest delivery boys and collection agents will get notifications once an order for medicine or request for lab test is raised. They can accept or reject a request.
Delivery boys and collection agents location will be updated to have track of the order.
Home Care
Users can get health care professionals like doctors and nurses to their home to obtain assistance for the elderly people.
Users can also set reminders for medication and refill reminders for medicine purchase or they can set automatic re-orders for elderly people who cannot use mobiles and apps.
Emergency
You are one of your beloved ones are in an emergency condition? Do not know what to do, how to handle the situation?
Do not panic, just hit the EMERGENCY BUTTON and notify a general physician or an ambulance and get medical attention by them within seconds. It is just a click away.
Insurance
Users can search for insurance policies, research about them and purchase them through app.
Users can also renew their insurance policies, claim them and many more through the app.
Corporates
Educational institutes, organisations and corporates can avail timely and valuable medical assistance by registering on app.
Wellness
Discover the services like Doctor Consultation, Clinics, Hospitals, Diagnostic centres, Blood Banks, Alterative Medicine, Ambulance along with other emergency services and wellness service providers like Gym, Salon and Spa.
Technology used
Laravel
Vue.js
MySql DB
Express Framework
React.js
Mongo DB
Java/Kotlin
SQLite
Firebase
Swift
Xcode
Vidyo
Basecamp
JIRA
Selenium
Appium