Business processes are evolving thanks to evolving digital technology. By going paperless, today, we have been able to execute more tasks in a faster and more efficient way than we did 20 years ago. These days, it's essential to have an integrated business management software to stand up to the competition. A lack of one could prove disastrous for the company. Business processes can slow down as compare to their competitors. This is one of the main reasons why you have cutting-edge business management software such as Odoo. Odoo is now in its 12 th iteration/version, and the developers say that the speed, execution, features, and usability are beyond imagination. So, let's try and understand what has changed in this robust software over the years.
A newer dashboard that provides a better understanding of the data

Odoo 12 comes with a new dashboard using what you can know better your company's financial status. With this layout, you have access to the latest KPIs, with the help of which you can compare data from different times. Most Odoo ERP customization services are leveraging the new version of Odoo to get information about the average cycle times and delays by knowing the value coming in and out of the stock, for instance. Also, you will be able to overview the win or loss ratio of your opportunities as well as the media from which your leads came. Thus, monitoring your business activities is a lot easier, now thanks to Odoo 12.
Better Barcodes and Faster Processing
When it comes to inventory management, the Odoo 12 has it all. The new barcode app processes pickings in much faster and more efficient ways. Also, the UI of the application has been customized for use with mobile devices. By easing the scanning of different lots and serial numbers, it allows for effective management of various warehouses. And that's not all. The manufacturing process has been given much attention thus allowing work orders to be processed even with gloves. And small differences like these are what enable the production team to save on precious time at every step of the process. And Odoo customization services will be able to better implement this for the benefit of various businesses and organizations.
Easy management of all your files with Odoo Documents
Not everyone wants to go paperless. Some businesses prefer to still send invoices through emails, forcing their clients to archive them, thus taking up much of their storage space. With Odoo Documents, however, it becomes possible to send, categorize as well as archive different scanned documents. It also becomes possible to generate various business documents such as those vendor bills, vendor refunds, tasks as well as those electronically signed ones. And the best part about it all is that the Odoo Documents applications are an integral part of the Odoo suite, just like any other Odoo application. So, go request a signature via Odoo Sign or automatically encode the contact details of the supplier from their invoice and upload it to the system. The Odoo Documents application has the ability to manage various files including those of PDFs, images, documents, videos as well as URLs. And an Odoo implementation company can help you in the successful implementation of these features and more.
Showcase your products with the product configurator
The visitor's configurator of the website is integrated into the backend system, so that it can ease the creation of orders, thus saving time. Also, the products and their various combinations can be configured using the sales order, by picking only those attributes that are actually required, thus eliminating the need for an endless list of products. It's also possible to exclude certain combinations of values when configuring the product. Now, thanks to the new and improved Product Configurator, it has become possible to endlessly upsell because of the options that are available in the cart. That is, anything you choose comes with extra options, such as a kid's protection gear option, when you choose the Kid's seat. Moreover, certified Odoo partners will be able to set custom values as well as generate on-demand variants of the products and their attributes.
Use a multi-website system to boost your revenue
Your favorite integrated management system, Odoo, now has a full-featured, multi-website system, opening up incredible opportunities including diversification and customer segmentation, which is bound to tremendously increase your audience numbers and boost revenues, all in just a few clicks. Odoo 12 allows each website to function completely on its own, including its own branding, domain name, and content, which may include headers, footers, pages, languages, product descriptions, blog posts and more. And certified Odoo erp gold partners would be able to provide such diversification as well as customer segmentation that could not only boost revenues but also bring value to the business.
Easy Accounting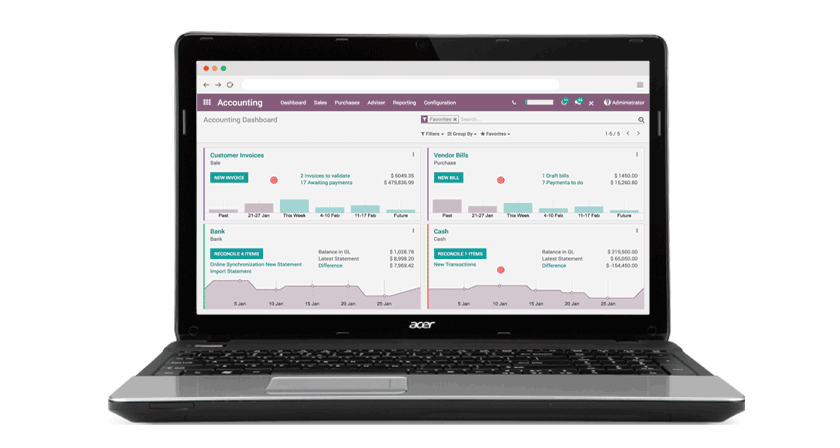 Accountants receive many invoices each day, which they would have to scan and convert to PDFs for each of the files. This could prove to be time-consuming. Now, with the help of Odoo Documents, this process can be automated. Thanks to the 'scan to email' feature in Odoo 12, you can create one PDF file containing all the invoices. And with the help of a click of a button, you can categorize these invoices as per the vendors or suppliers. This is one of the greater features of Odoo 12, that works on the principle of OCR or Optical Character Recognition, and helps you in speeding up the encoding of information.
Besides these, the Odoo 12 comes with a whole bunch of other features which the accountant can use to ease his job. These features include things such as the Predict Vendor Bill accounts or management payments compliance. With the help of these features, the Odoo ERP software will try and predict current bill accounts of the vendors, based on the previous bills. Odoo 12 also comes with its own report designer feature, which can be used to customize reports using just a few clicks. With this feature, you can either create a new report or use one of Odoo's templates. So, in all, the overall performance, stability, and robustness of Odoo have been improvised upon, in the Odoo 12. With the introduction of this iteration of Odoo, the ERP software has become very fast and responsive, thus being able to perform activities such as search queries with tons of filters, even on extremely large datasets.
Next Post ←
Top 8 ERP Software's Run Your Business Efficiently