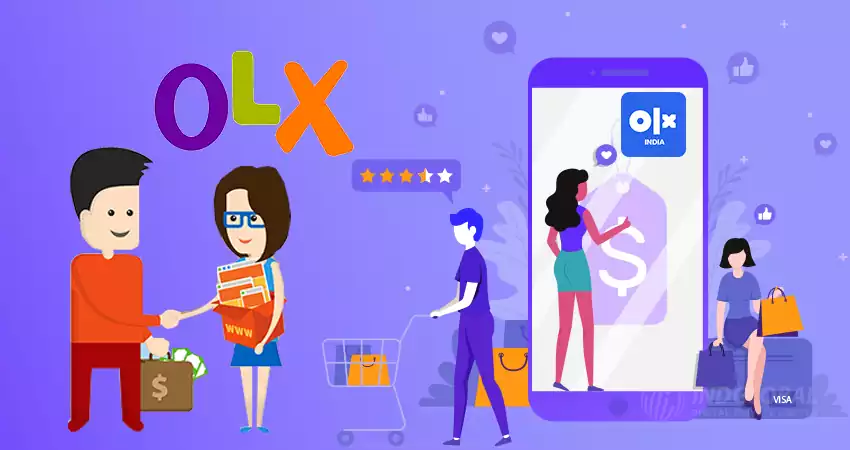 OLX is a classified company which commands global presence. Very simply put, it allows hassle-free buying and selling of products. Established in the year 2006, OLX conducts business in 118 countries today. Besides easy buying and selling of goods, the app also promotes easy home, job and service searches. You can access this particular app on Windows, iOS and Android platforms.
What are the Main Features of the OLX app?
At the heart of the success of apps like OLX and LetGo is the hassle-free connection between the buyers and sellers that they have been able to promote. Today, a credentialed App development company in Bangalore might as well be literally flooded with requests to create OLX-like apps. Fundamentally, you can probably appreciate the benefits offered by these "glocal" digital market places by considering these factors:
They have made it immensely easy for you find local buyers for your products
Conversely, as a seller, it is equally easy for you to get rid of your old stuff
All you need to do is register yourself on OLX
Once, you have done that successfully, you can get on with the selling process by posting pictures, product descriptions of stuff that you don't need and wait for buyers to call you!
Buyers, on the other hand, can follow a process as simple as that as well
How to Build an App like OLX?
Now, the question is – "What does it take to build an app like OLX?" We will explore answers right in the course of the post. At the very onset, one should remember that while creating an app like OLX or LetGo, you should keep both the "buyers" and "sellers" in view. Consider the key features of OLX to figure out what we mean:
Features you will have access to if you are a buyer:
Hassle-free registration and log-in
Detailed product listing facilitating search
Comprehensive user-management console complete with profile updates, purchase history and account information
Product Image Sliders showing you top selling products and the recently added products
Proper chat system with sellers
Monitor seller responses for a quote sent by you
Ability to save ads for later purchases
Ability to search based on locations
Access to Features if you are a Seller
Hassle free registration and log-in facilities
Ability to compare price offers from buyers
Find buyers based on their location
Quick image upload and zero-hassle image editing option
Ability to manage products in a clutter-free fashion
E-mail and message notifications
Why are Buy and Sell Apps So Successful?
Now, we should not forget that a buy-sell or classified app like OLX has struck the right chord with users simply because of the fact that –
a) both buyers and sellers don't have to pay anything for registration and
b) because even sellers are not required to pay any commission on the stuff sold
These apps generate revenue from sources like brand promotions, ad campaigns and feature listings..
You need to commit yourself to a strategy when it comes to generating revenue from an app like OLX. We can choose to serve the role of a mediator between the buyers and sellers. You need to hire freelance delivery men on full time or part-time basis to facilitate delivery services.
Advertising strategies are tailored for sellers who are looking forward to publishing special offers. You can add a "system recommendation" feature in order to find these types of customers faster.
Consider incorporating third party payment gateways to "mode charge a certain percentage on successful deals."
The MVP Features that your Buy and Sell App Should Have
What more? The popular Local Market place Apps are also backed by efficient MVP features to facilitate visibility as well as functionality. Here is a look at some f the MVP features that your app must have:
A web app optimized for search engines
Social Network Registration
Picture Capture and Edit Options
Delivery Status feature
In app payment
Besides, a feature-rich buy and sell marketplace app has proper SMS, Voice and Mail verification features in place. Make sure you're taking help of real time analytics like Spark, Hadoop, IBM and BigData to measure app "outcomes" for your business.
How Much does it Cost to Build an App like OLX?
Last but not the least – you just cannot rule out budget from the whole equation. You need to have a fair idea of the costs related to an app like OLX before you are actually getting on with the process. Here is a look:
The total cost of a global classified app varies in accordance with the following features:
The size of the app
The platform on which you are developing it
The developers' fee
The design of the app
As far as the app platform is concerned, it costs higher to develop the app on iOS than what's the case with Android. UI and UX designs are crucial to user experience. A highly functional app generally requires certain technologies that render them attractive as well. It gets easier to appeal to users in that case.
Make sure you're introducing a mobile wallet to ensure that payments are always hassle-free. While your app will in any case have the basic features like user profile, newsfeed, My ads and photo uploading—the introduction of advanced features like data sync, geolocation, push notification and in-app camera will cost you more.
Next Post ←
Importance of Corporate Web Design That You May Not Know
→ Previous Post
How app development services can be crucial to your business
---
Request a quote or Talk to an expert
We guarantee a response in 6 hours or less. And the best bang for your buck.