Did you know? In 2022, the global eCommerce sales are expected to gross $5.5 trillion. Are you already running an eCommerce venture? Or thinking of doing the same? In both cases, building a website with a reputed ecommerce website design company Bangalore should be your priority as it represents a valued tool for marketing. You also need to ensure that your website is well designed as per contemporary styles and is equipped to suit the needs of your target audience. So, as an eCommerce entrepreneur, you have two options to choose one among the two approaches towards conversion optimization, that primarily depends on your target audience.
Do you wish to see your eCommerce business running a B2B i.e. Business to Business eCommerce site? Or is your eCommerce business more suitable for running a B2C i.e. Business to Consumer eCommerce site? If you have already answered these questions, then probably your next move is to identify the difference between B2B and B2C eCommerce, and that is exactly what we are going to discuss in this article. As a leading ecommerce website development company in Bangalore, we have tried to provide valuable insights related to both B2B and B2C ecommerce websites as well as indicate the major difference between these two websites. Therefore, keep on reading as we help you grow your eCommerce venture immensely.
B2C and B2B eCommerce- What are they?
In a B2B eCommerce venture model, wholesalers or manufacturers and companies often sell their products to different businesses. After buying products from them, the businesses or retailers then sell the products to a final end-consumer; this is the flow in an e-commerce venture referred to as B2B.
B2B eCommerce businesses, however, are not always that simple, some manufacturers tend to establish a direct connection to the end-user whereby they will be able to sell their goods directly to the individual and not through any middle retailers. Hence, they are most likely to adopt a B2C business stream. For example, think of a retailer who sells his products/goods to other businesses in great bulk; now if he is able to sell hundreds of office desks and chairs to any of large companies, then this deal would land the retailer in a B2B or business-to-business model.
Let us now cite some examples from the real world.
Symantec (B2B ecommerce):
Symantec supplies the software anti-virus that is utilized by Apple to scan the internal infrastructure of their company simultaneously shielding the companies' data thereby completing a B2B system.
Walmart basically buys goods from manufacturers and wholesalers from across the world and then sells these purchased goods to consumers.
IBM – B2C and B2B eCommerce:
You might be familiar with IBM if you are fond of tech ideas. IBM markets their PCs to the end customers directly. But IBM also has teams which are dedicated solely to corporate sales. Furthermore, these dedicated corporate sales teams negotiate the purchases of goods i.e. computer equipment made in bulk. Initially as a B2B, IBM hit the market but later on, they proceeded appling the B2C model for their Personal computers.
Where lies the significance?
The marketing strategy you may undertake for your business might be affected dramatically by the model that you wish to implement in your business. Hence, knowing both the models in a better way will help your business grow immensely. In case your company requires a B2B business model, you should focus your marketing on retailers and other companies. On the contrary, if your business requires a B2C model, then probably your marketing strategies should focus more on the consumer aspects.
 B2B and B2C Business Models: Primary attributes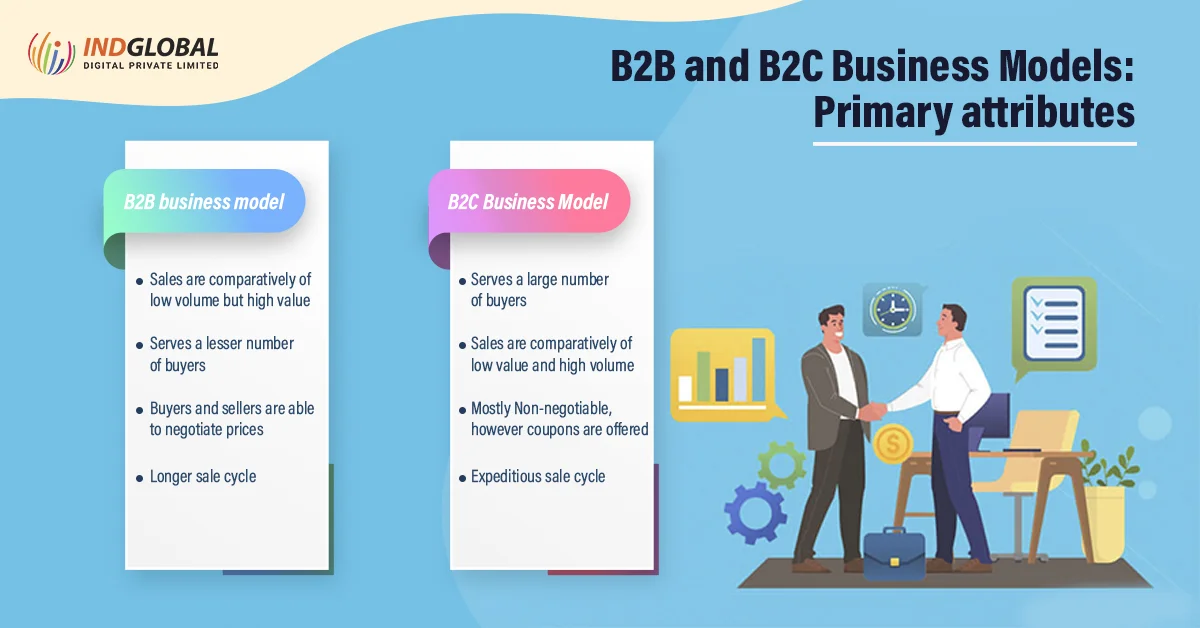 B2B business model:
Sales are comparatively of low volume but high value

Serves a lesser number of buyers

Buyers and sellers are able to negotiate prices

Longer sales cycle

The relationship between a buyer and a seller is usually long term
B2C Business Model:
Serves a large number of buyers

Sales are comparatively of low value and high volume

Mostly Non-negotiable, however coupons are offered

Expeditious sales cycle
Distinguishing Features between B2B and B2C eCommerce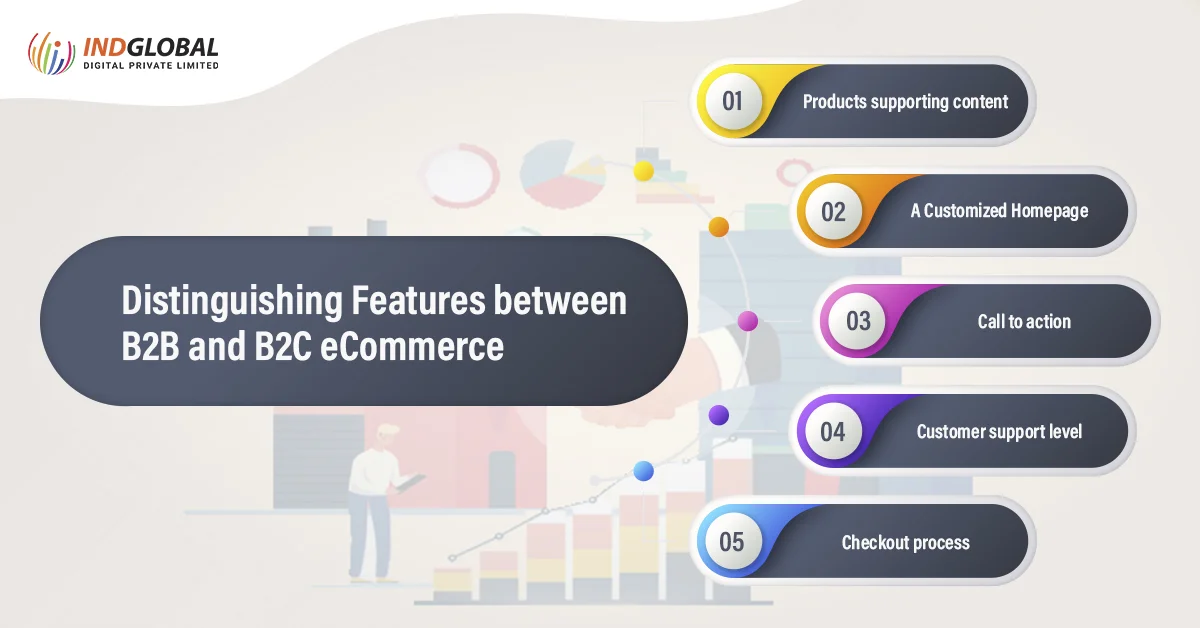 B2C and B2B eCommerce website differences are quite subtle. B2B basically stands for 'business to business' while B2C stands for 'business to consumer'. B2B ecommerce online platforms sell products or services to other businesses. On the contrary, B2C ecommerce platforms target personal consumers. For example, a company that sells office furniture, paper or even software to other businesses would come under the category of a B2B company. 
B2B ecommerce can be a bit more complex than B2C ecommerce by involving heavier research, more requirement-based purchasing, and less marketing induced buying. Many B2B buyers have very strict parameters around the purchases that they can make which implies that traditional revenue drivers such as add-ons don't have the same impact.
1. Products supporting content
Products supporting content describe the features that help buyers make the correct decisions. B2B websites entail the following that support content as per products:
goods videos in detail

Guidelines as per comprehensive buying

Related Blogs and article posts with supportive insights

Easy access to sales representatives

Case studies outlining consumer success stories
B2C products that support content entail the following as per products that supports content:
High-resolution, clear images

Discounting

Product highlights and features

Reviews and Ratings

Social proof via review videos and customer testimonials.
2. A Customized Homepage: 
When a buyer accesses a business website, they always may not get to see your homepage first. Furthermore, often it may happen that they bypass your homepage by sliding directly into a specific product through Google search. They will, however, always check the homepage of your website to ensure that your brand is trustworthy. Hence you need to have a homepage that meets their expectations.
B2B homepage:
Content is generally highly informative

Straightforward layout

Main products' images should be reflected

A Quick and hassle-free ordering system
B2C homepage:
Should contain catchy headlines

Offers, sales, and discounts should be reflected

Flashy and vibrant 
3. Call to action
Maybe you are familiar with or probably have used the "Book Demo" or "Buy Now" options on the ecommerce website to direct your customers to accomplish some quick tasks like buying something or booking a demonstration. This is called a call to action or CTA.
B2B CTAs are pretty directed on the point, while B2C website CTAs tend to be kind of more creative.
4. Customer support level
Customer support comes as one of the most essential facets in both B2B and B2C business models.
B2B customer support parameters
Active check out process involving efficient customer support

Video and live chats to resolve FAQs that are business-oriented

Offering Customer care services even after sales in case of concerns and reorders.
B2C customer support parameters
Post-sales support system for handling exchanges, complaints, and returns.

24/7 customer care support

Provision of Self-service bots.
5. Checkout process
A smooth and seamless checkout process usually marks the satisfactory end of a customer's journey where online shopping is concerned. Below are some of the distinguishing features between B2B and B2C checkout processes.
B2B website Checkout Process:
Involves more of Personalized interaction

Payment options encompass mainly credit cards and checks

"One-click reorder" option enabled for orders that are repeated
B2C website Checkout Process:
Wishlist option is there to add products

Availability of several payment options

Referral codes along with coupon adding options

Reminders to avoid casting aside of the shopping carts
Does B2B ecommerce seem to be more complex than B2C ecommerce?
Below mentioned are a few reasons why it might look like that B2B ecommerce is more complex than B2C:
B2B buyers mainly need to consult within multiple departments before making a purchase, while B2C consumers only need to consider their own choices.

B2B buyers prefer to look at the long-term implying that they spend more time researching and sourcing out recommendations. The B2C customer,on the other hand, is more prone to emotionally driven purchases or impulse buying.  

B2B buyers mostly deal in high-value purchases, so any mistakes in the process are magnified. Small-value B2C purchasing errors apparently are not that impactful.

B2B buyers will usually be repeat purchasers, so organizations need to consider the long-buyer lifecycle. B2C consumers often buy a product only once.

Since B2B buyers tend to make buying decisions for an entire company, they generally possess a tighter remit than B2C customers. 
How can you improve your B2B ecommerce platform to offer a B2C-level end-experience?
While B2B ecommerce may seem as more complex as per the varied needs of the buyer– that certainly doesn't imply that these buyers do not expect a similar level of service like the B2C buyers. Personalization has of course been a real boon for B2C, but it can prove to be equally competent for B2B as well as building relationships is crucial, especially throughout the buying cycle. As per the Salesforce State of the Connected Customer report, approximately 72% of the business buyers expect their vendors to offer a more personalized engagement. 
Thus, B2B organizations need to make the most out of every opportunity available to connect with their target audience, or display a differentiator, as well as highlight their brand simultaneously. Here are a few strategies that businesses following a B2B business model can implement to enhance their ecommerce experience:
Build an omnichannel experience
Today's tech- savvy consumers expect a rather seamless experience across several touchpoints. The business buyers – around 75% of them – say that they expect vendors to have a more connected process. In the eBook, Transforming the B2B Sales Function, most of the buyers are of the opinion that they expect an "Amazon-like" experience.
Building an omnichannel experience can always be a win/win. It enables the customers to engage precisely on any channel at the same time offering a wealth of data to understand their customers in a better way. 
24/7 customer support
Since B2B organizations will be dealing with large orders and more complex processes, it is important to offer continuous customer support at every stage of the journey. You can even consider implementing chatbots for providing 24-hour customer support. 
It is also likely that the B2B buyers have already done some research before approaching any organization, so consider keeping an FAQ section that could probably be able to resolve all the queries.
A seamless checkout processes
Offering 24/7 customer support is important. At the same time, it is also important to provide customers with the opportunity to have a smooth and seamless checkout process. According to a McKinsey report, approximately 76% of B2B buyers find it really helpful to speak to someone when they are researching a product or a particular service, but only 15% of them really wanted to speak to someone while reordering. Thereby, offering one-click reordering, or even recurring subscriptions, can really improve customer satisfaction.
Provide detailed informative content
B2B eCommerce purchases are not as emotionally driven as the B2C eCommerce purchases. Therefore, it is important to provide detailed information regarding products and services. Businesses can also include community forums, FAQs, video demonstrations, live chat, and many such elements. 
Another difference in B2B vs B2C can be that the B2B buyer will always expect their salesperson to understand their industry thoroughly and be well-equipped to answer all sorts of questions related to their arena.
What's up ahead for B2B e-commerce organizations?
Today's B2B buyers have higher expectations which imply that B2B organizations adopting a B2B business model need to evolve to meet them. At the same time, this might open up an opportunity for B2B organizations to become more agile, responsive, and connected as well. As a Forrester Report states that almost 83% of B2B businesses are expected to bloom their e-commerce sales over the next couple of years, it's also an opportunity to grow for the B2B organizations.
Final Words:
As described in this blog, B2B and B2C business models may bear several differences, both provide a better way to enhance a business as per the business requirements. The B2B e-commerce world is changing today with today's B2B buyers being more focused on evolving just as digitally savvy as their B2C counterpart, also with the expectation of the same exceptional service. Thus, when it comes to B2B vs B2C e-commerce, we can say that the gap in service is narrowing with some ways that B2B organizations can offer to provide elevated e-commerce experiences. We sincerely hope that our article has brought some light on any issue that you could probably have regarded B2C and B2B eCommerce websites regarding their functioning.
Next Post ←
Development of an E-commerce Platform Using Odoo ERP Integration
→ Previous Post
E-commerce Business Intelligence: Impacts of BI in the E-commerce Marketplace
---
Request a quote or Talk to an expert
We guarantee a response in 6 hours or less. And the best bang for your buck.