In the past few years, our lifestyle has drastically changed, and we have started adapting to it. After spending a lot of days, weeks, and even months at home, we all have new habits, one is online shopping. Even though online shopping took people to get accustomed to the Internet and start shopping online, the e-commerce platform has grown rapidly in the last years and retail e-commerce sales will reach 7.4 trillion dollars by 2025. Also, there are multiple e-commerce website development organizations emerging with the high growth of e-commerce. 
This growth in online business can be linked to Quick Commerce. Delivering a positive user experience can attract new customers and expand the business in the market. The introduction of Quick Commerce was made considering the growing demand for quick delivery amongst users. 
What is Q-Commerce?
Quick Commerce or Q-Commerce, is a new trend that focuses on offering products and services in a short period. The process addresses the demand for instant gratification of the customers by aiming to deliver products within minutes. For rapid delivery, Q-Commerce uses technology, logistics, infrastructure, and local fulfillment centers. The business operations of Q-Commerce are fully optimized by routing algorithms, mobile technology, and gig economy platforms. For last-mile deliveries, companies use automated technologies like robots and drones. In addition to delivering on-demand delivery of a variety of products, Q-Commerce is revolutionizing the retail industry.
Want to know more about Q-Commerce? Feel free to meet the top e-commerce website development company to clear your doubts about the unique online platform. 
Cloud Computing in Q-Commerce
 
Cloud Computing is an essential component of Q-Commerce. It has become successful in multiple ways- 
1. Data Storage 
There is a huge focus on data in Q-Commerce including order details, customer input, and inventory management. To handle a large amount of data by Q-Commerce operations, Cloud computing provides scalable and robust data storage solutions like databases and cloud object storage. Also, it offers data processing abilities such as machine learning services and cloud-based analytics to extract valuable insights from the data. 
2. Scalability 
Q-Commerce requires the need to scale up and down due to demand fluctuations. The platforms can use cloud computing resources to scale their infrastructure with an increase in order volumes, data processing, and traffic. This level of scalability allows Q-Commerce platforms to handle peak seasons and deliver customer experience.  
3. Reliability and Availability 
The distribution of infrastructure across multiple data centers using redundant systems lets the cloud computing platforms offer high reliability and availability. Q-Commerce platforms operate continuously without interruptions when the hardware fails and the occurrence of natural disasters. The availability of Q-Commerce also prevents customers from missing the delivery window that makes them unhappy. 
4. Global Reach 
Through cloud computing, Q-Commerce platforms can reach users across a wide area with a global presence. Several cloud service providers have data centers around the world to let Q-Commerce organizations deploy their services amongst geographical areas. Due to the high global reach, Q-Commerce platforms can deliver products and services quickly regardless of customer's location. 
5. Collaboration and Integration 
The Q-Commerce platform benefits from seamless integration by cloud computing. The Q-Commerce ecosystem can connect to inventory management systems, payment gateways, logistics providers, and other stakeholders for real-time data sharing and smooth coordination. Cloud-based collaboration tools allow different teams to communicate effectively while working on Q-Commerce operations. 
Features of Q-Commerce 
The Q-Commerce business platform differentiates from other business models by offering these features- 
It is the most necessary feature of Q-Commerce that allows customers to shop anytime from anywhere through their mobile phones. 
The main focus of Q-Commerce is to offer fast delivery, making the buying process through the platform a time-saving process. 
As there are reputable brands on the Q-Commerce platforms, customers can be assured of product quality and delivery. 
Order tracking is another essential feature of Q-Commerce that allows customers to track their orders with ease. 
The brands at the Q-Commerce platform buy inventory in bulk to reduce the average cost of each product and let business owners provide good deals and discounts. 
The Q-Commerce organizations create applications that let customers order multiple products from a single platform. 
Advantages of Q-Commerce 
The Q-Commerce platform has advantages over traditional e-commerce platforms that include- 
Competitive Unique Selling Proposition 

A Great Opportunity for Online Delivery Partners 

Potential for Growth 

High-Quality User Experience 
Disadvantages of Q-Commerce 
No matter how effective a delivery platform is, it also has disadvantages. 
Risk with Existing Local Economy 

High Operational Costs 
Examples of Q-Commerce 
Q-Commerce companies have arisen in past years in different industries. Here are a few examples. 
DoorDash is a famous food delivery company that has expanded its services to add e-commerce. 

It has introduced DashMart, a convenience store that provides groceries and household products on time. 

DashMart provides fast delivery of everyday essential items and influences its local partnerships and extensive logistics network. 
A popular Q-Commerce platform, GoPuff specializes in delivering everyday household items to customers at reasonable prices. 

The GoPuff website and mobile app allow users to order a variety of products including drinks, personal care items, and drinks. 

The company has micro-fulfillment centers that ensure rapid delivery of products within 30 minutes. 
Among the popular Q-Commerce platforms in India, Instamart specializes in grocery delivery services. 

A customer is allowed to place an order for household products and groceries and get it delivered to their home. 

The logistics used by Instamart ensure that fresh items and grocery items are provided on time. 
Rappi is a Q-Commerce platform that provides on-demand delivery services to customers. 

It also delivers meals from restaurants, electronic items, and even cash withdrawals from ATMs. 

Reliable and fast delivery is offered by the Rappi platform using advanced logistics technology and couriers. 
How Does Q-Commerce Work?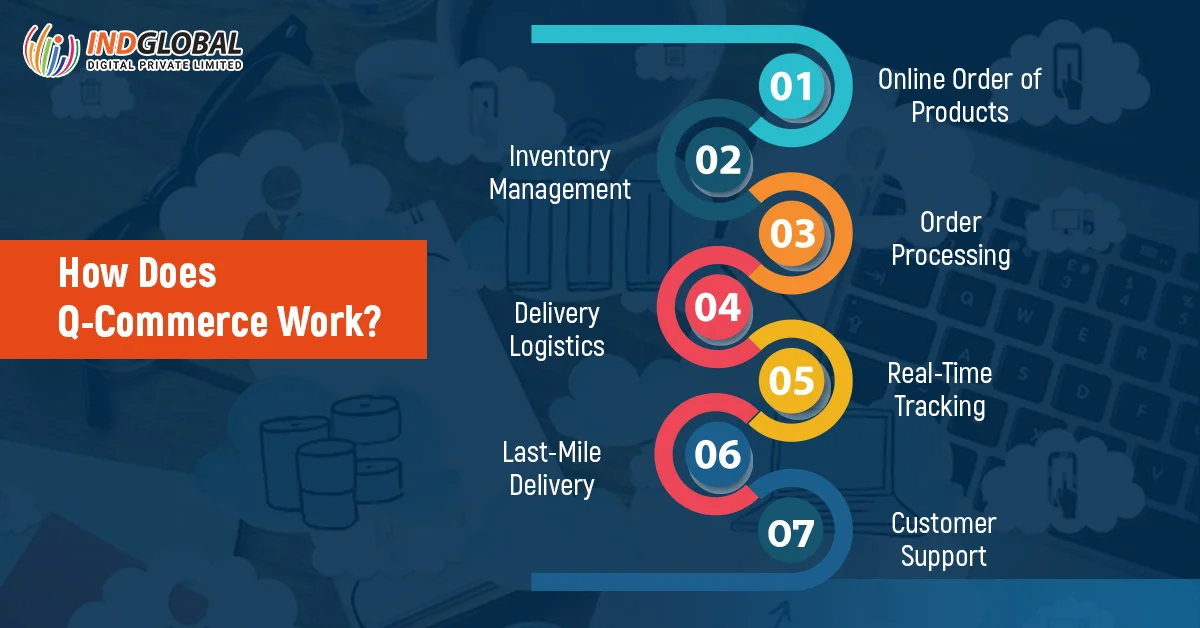 Q-Commerce provides convenient, fast, and efficient delivery. Here is a process that showcases how Q-Commerce works. 
Step 1- Online Order of Products 
Q-Commerce provides customers with a website and a mobile application to place online orders. It allows users to browse products and services, add them to the cart, and checkout. The website or application also delivers an intuitive user interface that lets customers build accounts to store their requirements and payment information for future purchases. 
Step 2- Inventory Management 
Q-Commerce platform manages inventory using a combination of partnerships with retailers and fulfillment centers. They also maintain visibility of real-time inventory to ensure customer product availability information. The data allow customers to make the right decisions and minimize order cancellation chances because of out-of-stock items. 
Step 3- Order Processing 
Once the product is ordered, the Q-Commerce platform processes it. The step includes order validation, payment confirmation, and notification from the local partner or fulfillment center to prepare the order delivery. The Q-Commerce platform also operates different algorithms to optimize the order routing process and minimize the time to complete the process. 
Step 4- Delivery Logistics 
For efficient and fast delivery, Q-Commerce organizations provide a vigorous logistics network. Delivery personnel are employed and independent couriers are assigned orders according to availability and proximity. The sophisticated routing algorithms let the platform determine effective delivery routes, minimize travel time, and maximize efficiency. 
Step 5- Real-Time Tracking 
Real-time tracking is available on the Q-Commerce platform. The website and mobile application allow the customers to track the progress of the product order, providing them with the exact location and delivery time. Customers receive promising user experience and manage delivery expectations. 
Step 6- Last-Mile Delivery 
Delivery of products to the customer's home is the last step of the delivery process from a retail unit or fulfillment center. Q-Commerce organizations use strategies to optimize last-mile delivery that involve unique solutions such as locker implementation. 
Step 7- Customer Support 
Customers can also contact various customer support units to get solutions for their issues, queries, and concerns regarding their orders on the Q-Commerce platform. You can also get assistance with order tracking, product inquiries, returns, and support using e-mail, live chat, and phone. 
A Quick Differentiation Between Quick Commerce vs. E-Commerce 
Here is a tabular comparison between Quick Commerce and E-Commerce.
| | | |
| --- | --- | --- |
| Aspect  | Quick Commerce or Q-Commerce  | E-commerce  |
| Fulfillment  | Partnership with retailers and local fulfillment centers | Third-party logistics and centralized warehouse |
| Delivery  | Fast delivery within minutes  | Ranges from days to weeks  |
| Order Processing  | Rapid order processing and packaging  | Processing time based on the retailer  |
| Delivery Network  | Hyperlocal delivery network  | Wide-range delivery network  |
| Customer Experience  | On-demand shopping experience  | Traditional shopping experience  |
| Target Market  | Customers want quick delivery and immediate fulfillment  | Customers vary in requirements and preferences  |
| Product Range  | Diverse product range involving household essentials  | Variety of products across different categories  |
| Scalability  | Scalable and flexible to handle instabilities with ease  | Scalable with additional infrastructure  |
| Customer Loyalty  | Focus on loyalty programs and customers  | Client loyalty programs and customized offers  |
| Infrastructure and Logistics  | Local and Hyperlocal operation optimization  | Handling of broader geographical coverage  |
Now that you know the differences between e-commerce and q-commerce, it is time to select the appropriate one for your business connect the team from the best e-commerce web design India organization, and get your online platform designed. 
The Future of Q-Commerce 
Q-Commerce is a new growing business model. Startups and various organizations have faced issues since their introduction, but all this has not stopped them from expanding their business. Business success can be attributed to the e-commerce models and the potential they require for future growth. 

Also, there is a change in customer shopping behavior as business firms are inclined towards offering online, convenient, and on-demand experiences to customers. 

The Q-Commerce delivery system is also optimized for cost-effectiveness and efficiency while increasing the reach of business organizations to more users. The platform's potential makes it one of the most popular business models in the online market. 
Conclusion 
Despite being a new concept, Quick Commerce or Q-Commerce has stayed untapped in the online digital industry. The popularity of e-commerce will grow as customers demand convenient options. It can be challenging to know if the platform is perfect for your business or not. There is no necessity to invest a lot of money to test it. 
So, our e-commerce developers recommend business owners introduce the concept to one area at a time to iron out any issues, analyze the results, and focus on the strategy. For further details on Q-Commerce, contact Indglobal Digital Private Limited, the leading e-commerce web development company in Bangalore whose web development team focuses on delivering the best services to clients at affordable prices. 
Next Post ←
Unleashing The Power of Magento PWA for Exceptional Online Experience
→ Previous Post
Optimizing Your Website for SEO: Best Practices for High Rankings
---
Request a quote or Talk to an expert
We guarantee a response in 6 hours or less. And the best bang for your buck.