2020 undoubtedly was a year of unprecedented disruption where businesses connected with their employees and customers remotely and everything got transformed nearly overnight. Organizations pivot to remote-first environments readily, undergoing a great deal of digital transformation in just a few months. A great bulk of this transformation was actually supported by the proficient developers who were "digital first responders" and thus helped the organizations in having a more agile and resilient approach.
Currently there are options to save workloads to the cloud along with new ways to code, or collaborate, and ship software faster- many of these trends already we saw in software development teams, but all of these accelerated within the turmoil of the pandemic. These present a good opportunity to consider the impact on the future of software development and how we can work together towards crafting a more resilient future. Indglobal Digital is a leading software development company in India that offers top-rated Software Development Services and solutions as of our enriched experience in the field, key business insights, pool of skilled professionals, and a dedicated working process.
In this blog, we discussed how we can help engineering teams grow and simultaneously support developer talent for the unprecedented demand, improve inclusiveness in apps  and velocity, as well contribute a huge proportion for Software development in Bangalore, India and the possibility of scaling out through open source and/ or low-code tools.
Development frameworks and technologies that are emerging in 2021
HackerRank which is a virtual meeting forum for developers has presented the developer skill survey. As per the community:
JavaScript is believed to be one of the most important languages for software development. Most of the hiring managers lay more emphasis on Javascript  followed by Python and Java.
Angular JS, React and Spring are in the top list of the frameworks. Express JS and ASP are losing their rank gradually, and a sudden emergence has been noticed in AI and Django.
Further one more indicator for future technologies that may be needed for project development or that might affect software development services in the upcoming years can be denoted by the preference of the languages that developers would like to learn. As per HackerRank's report, developers are currently leaning towards languages like Kotlin, Go, Python, and Frameworks such as AngularJS, Django, and React.
Need additional information?
Consult our experts regarding your queries on software development!
Markets where software development is being productive
The COVID-19 pandemic has led to the emergence of versatile software development trends into the niche. e-commerce, Healthcare, technology, on-demand market, cybersecurity are a few of the domains that have witnessed a booming surge of software development. Additionally, the online shopping and education system are also at peak and the trend is anticipated to continue forever.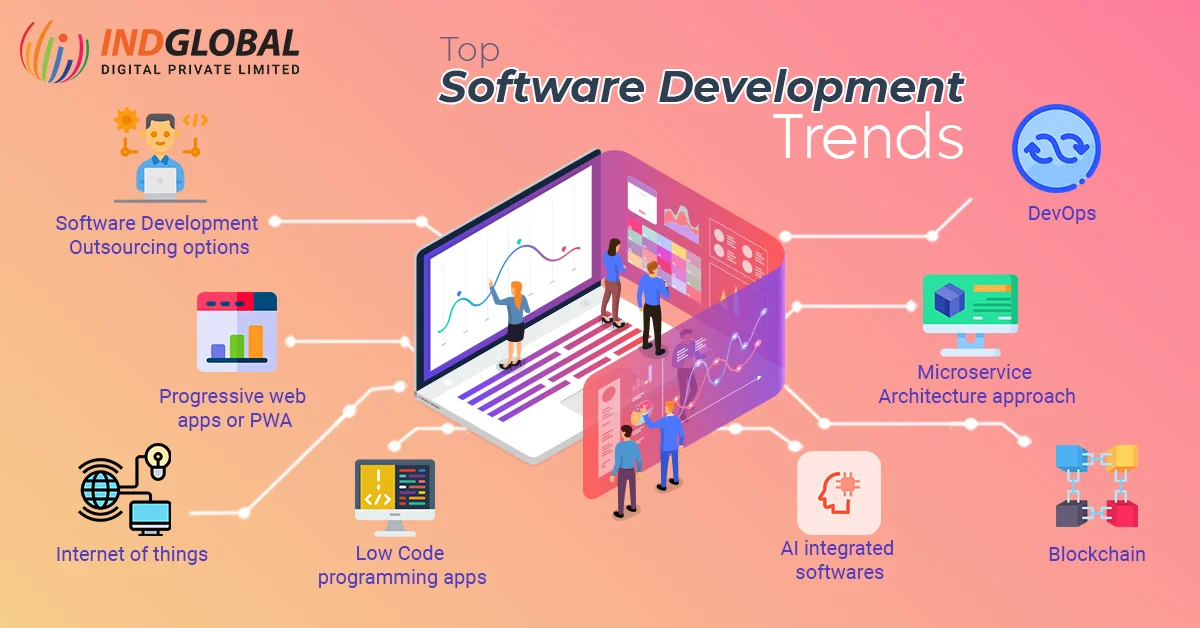 Software development trends are expected to  define the next financial year  in 2021
1. AI integrated Software-
AI has successfully made its place in the tech world, because of its foundation elements of multiple technologies globally. Developers anticipate AI to grow since more industries are being inclined towards opting AI software in their infrastructure.
Tesla, the driverless car running on our road and autonomous weapons that can well replace human armies are all particularly governed by software development with Artificial Intelligence and machine learning technology.
2. Software Development Outsourcing options- 
The information technology market earned nearly 67 billion US dollars in 2019. With the introduction of new technologies, the software development outsourcing market will definitely be able to rise its horizons in the coming day as it has the ability to empower the business with the latest tech solutions with greater flexibility and higher efficiency at a reduced cost.
Outsourcing software development is a prospering option for companies with budget constraints, as it can keep them aware of risks such as IP theft, data privacy issues, collaboration issues etc.
3. progressive web apps or PWA- 
Though Native application development remains as the first choice for business, companies who cannot afford native applications that often come along with a higher price are marking their way along with Progressive Web Apps (PWA) these days as they offer a brilliant user experience at quite an affordable price model.
PWA are basically web applications that are able to perform on any platform and use standard-compliant browsers for both desktop and mobile devices. It offers almost similar features like native apps in terms of speed, security etc.
4. IoT or Internet of things-  
This intelligent connectivity integrated within the physical devices is literally transforming our homes, offices, and cities more smartly.
People are opting IoT embedded software solutions as they are productive, efficient, and cost-effective. Such IoT-enabled devices not only offer new opportunities for forecasting or business planning but for their unique approaches as well. Many sectors currently are embracing IoT to control, automate, simplify and improve several processes within the business. Few of the IoT powered apps that are currently in use are:
Smart Home applications
Traffic Monitoring apps
Apps for Fleet Management
Wearable devices for tracking heartbeats, calorie intake, GPS etc.
5. Low Code programming apps-
In order to enhance speed and agility in the businesses a fundamental shift has been observed in how app development is taking place for enterprise app development through top companies preferring for a no-code or low-code paradigm.
This low-code paradigm makes it convenient for the developers to simply drag and drop app components among the visual software environment as it eliminates the requirement to hire skilled and experienced developers and to connect all the components to build a good mobile app.
6. DevOps- 
With the main aim of high software quality, DevOps has been allowing businesses to constantly deliver value with faster solutions as per the market needs. Its agile development methodology along with a lesser time frame for development cycle contribute as the main reason for the software development industries to capitalize on them in 2021. DevOps is a modern approach to deploy an application integrating it with rapid development and release cycles and high-end security processes.
7. Microservice Architecture approach-
Microservice architecture approach aids in dividing a larger software application into smaller chunks where each architecture is able to work and operate on its own without coordinating with other services. Thus, chunk is referred to as a microservice. This in turn, allows the services to be developed and deployed at a much faster pace. It can also be re-written and maintained by the development team effortlessly.
8. Blockchain
Blockchain is believed to embrace the field with Decentralization, Transparency, and Immutability features. Block chain enables serving fields beyond Finance and Government. There are new beginnings as well for Blockchain in aspects like supply chain management. Blockchain technology is capable of providing a glass panel view for movement of the inventory from the manufacturer to the distributor to the trader.
Conclusion
Software development in 2021 will continue to progress in future. However, technology is constantly evolving along with new advancements and innovations. Technologies such as AI, IoT, and ML will definitely thrive and continue to evolve. Enterprises are shifting towards DevOps, PWA, and low code or code-free platforms. But , finally all the trends in software development including AI and software outsourcing are going to be governed by the demands and the situation.
Looking for the perfect partner for software development for your next project?
Next Post ←
Explore emerging Web Development Tech Trends that can gain competitive advantages in 2021
→ Previous Post
Integrate your ecommerce website development with an elegant mobile app to provide an enhanced experience!
---
Request a quote or Talk to an expert
We guarantee a response in 6 hours or less. And the best bang for your buck.